The Best Gift The Mentally Ill Can Give Their Families
I think I know the best gift the mentally ill can give their families this season. It's Christmas time again. I'm trying so hard not to get swept up by the tinsel and twinkle lights that, frankly, it's a little depressing. Christmas without my usual hypomanic buzz feels like an arranged marriage, instead of my usual love affair with this season. But this year I'm giving my family something my hypomania can't. I'm taking charge of my illness to make certain my bipolar 1 disorder doesn't wreak havoc on my family's special moments. After all, peace is the best Christmas gift I can give my family (How Not To Take Bipolar Hypomania Irritability Out On Others).
The Holidays Add Extra Pressure to Families with Mental Illness
The holidays really heat up family drama, don't they? Especially in families dealing with mental illness, we struggle to recapture, redefine, and reconnect throughout this season of togetherness. We want everything to be the way it used to be, if only for a day. We want to have everyone together and happy, if just for this season. In all of this nostalgic, sad and wishful thinking, we convince ourselves that maybe we can actually make it happen (How Not To Expect Too Much Of Yourself). We'll stuff everyone into the roles they used to play, we'll plaster smiles on our faces, and we'll make it work. But the pretending hardly ever works. We try so hard to make each other happy that we forget to take care of ourselves (Importance of Self-Care To Your Mental Health).
People Pleasing Is Not the Best Gift the Mentally Ill Can Give Their Families
I have become the expert on making people happy at the cost of my own health. Sure, I'm the one who brings the made-from-scratch coffee cake and the mountain of thoughtful gifts wrapped in matching, themed wrapping paper. But I have also been the family member who knocks over furniture and breaks wine glasses with closed fists, while swearing at everyone and bleeding all over the floor. I wish I could tell you it's happened once, and I learned my lesson. But I've played this ridiculous scene out for all to see multiple times (Is Mental Illness An Excuse For Bad Behavior?).
Each time I spectacularly melt down, I can always trace it back to one, simple mistake: I have forgotten to take care of myself. I have ignored the nagging voice in the back of my head telling me to slow down, hold up, eat, take a breath, take a nap, stay home, or leave early. Instead of listening to that voice, I put on my people pleasing face instead.
Why do I do this over and over again? It's simple, really: I feel guilty. I feel guilty that I have this mental illness I never asked for. I feel guilty for the limits it puts on me. I feel guilty that it has cost my family so much. I feel guilty that I'm not the girl I used to be: the one who was easy, cheerful, and compliant. I feel guilty that I'm not able to handle all-day family events anymore. I feel guilty that because of my illness, the family dynamic had to change. I feel so guilty that I say "yes" when I should say "no."
Taking Care of Myself Is the Best Gift I Can Give My Family
But this Christmas, I will do my best to silence that guilt. It never leads me to a happier self. Instead, I'm going to consult with my doctors and make decisions about where and when I should attend certain family events. I'm going to stick to the plan I make with my doctors, even if it means disappointing people (29 Ways To Say NO And Keep Your Self-Respect).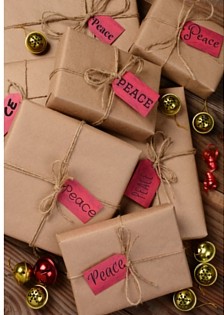 Even if the family picture doesn't look the same, even if I feel like a jerk, I am going to focus on giving peace to my family this Christmas. I want to establish a legacy of peace for my husband and my boys: holiday seasons in which Mama took care of herself and didn't spend or bake or over commit herself and her family into oblivion. And, I want the time I spend with my extended family to be peaceful.
If my attending an event will not add to the peace, I won't go. When I can attend, I will plan ahead and make certain I've given myself enough sleep and down time beforehand. I want to be rested, hydrated, and fed before a social event. If I feel that I shouldn't drink? I won't. If I need to take an anxiety medication? I will. If I need to limit my time at social functions, I will let the host know ahead of time and then stick to my timeline. I will be self-disciplined in order to be a blessing, instead of a sideshow, at the party. I will do my best to bring peace with me, even if it means I must attend without bringing the usual mountain of gifts and treats.
Most importantly, I will take responsibility for myself. I will care for myself as if I were my own best friend. I will kindly and gently remind myself that I am worthy of care. I am worth planning ahead for. I am worth setting boundaries for. I can't wave a magic wand and not have bipolar 1 disorder, even throughout the holidays. But I can take care of myself, refuse to people please at my own expense, and give my family the gift of peace this Christmas.
Connect with Taylor on Facebook, Twitter, Pinterest, Google+, and on her blog.
APA Reference
Arthur, T. (2015, December 9). The Best Gift The Mentally Ill Can Give Their Families, HealthyPlace. Retrieved on 2023, September 30 from https://www.healthyplace.com/blogs/mentalillnessinthefamily/2015/12/the-best-gift-the-mentally-ill-can-give-their-families
Author: Taylor Arthur