Surviving Family Vacations Without Losing Your Mind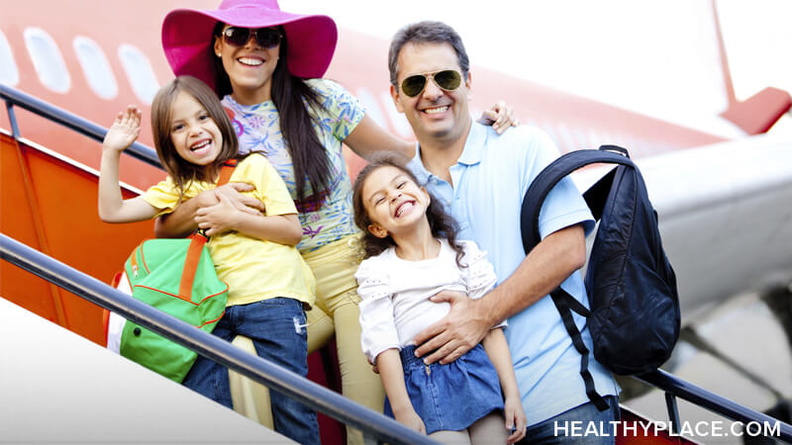 Family vacations can make me feel like I'm losing my mind. I pack so many expectations into our annual, family vacation that I forget to be realistic about what I need, who my family is, and just how much togetherness we can endure. But this year, I'm dead-set on surviving our family vacation without losing my mind.
How Do We Ever Survive Our Family Vacations?
Getting There Is a Struggle
Every summer, we spend half a day packing our car so full of camping gear, bikes and junk food that the four of us can barely fit into our seats. My husband usually needs a shower and a day off after all of the sweating and swearing that goes into packing such a load. But he climbs into the car anyway, all crabby and stinky, so we can speed down the Oregon coast to reach our campsite before dark. Along the way, we're pulling over at least once an hour because someone has spilled chocolate milk all over themselves or needs to go to the bathroom for the umpteenth time. The four hour trip turns into a seven hour trek and we're worn out before we even reach our campground.
It's More Work than Staying Home
Once we've found our campsite, we unload every piece of camping gear imaginable. We set up the tent, while making sure the kids don't run away, eat a pine-cone, blow up the air mattresses or pull out the coolers and supply boxes, and then discuss what we're going to cook for dinner.
I'm not saying that we don't have fun once we recover from our day-long process of getting to and setting up the campsite. But, it is exhausting. Last year, I was a puddle of tears by the third day of our family vacation. I had to excuse myself from the campfire to hide in the tent and cry. Yes, I really did sit in the tent and cry. When my husband came in to check on me, I looked at him and said, "This is not a vacation. This is everything I do at home, but harder. This is like double work."
I sat in the tent and took a long minute to feel very sorry for myself (When Bipolar Ruins Your Vacation). Then I wiped my tears and tried to see all the good in our situation: healthy kids, a mom who is living well with bipolar disorder, a husband and father who loves us all so generously (Marriage and Mental Illness: Take Care of the Caregiver), the means to take a vacation together, a beautiful campground to stay in and more.
Tips to Survive Your Family Vacation without Losing Your Mind
After taking stock of all of my blessings, I realized that this family vacation thing might always be a lot of work but maybe I could approach it differently. Here's what I'm going to try during our camping trip this year, to survive my family vacation without losing my mind:
Rest up before the family vacation. I worked a lot last summer, and I was exhausted by the time we took the kids on vacation. I expected that I would have an opportunity to rest up on vacation but I was wrong. I needed to be rested before the vacation so that I could focus on spending quality time with my family (and avoid crying in the tent).
Get some time off as a couple before the family vacation. Last year one of our biggest mistakes was allowing ourselves very little time together before the vacation. It's difficult to work as a team when our relationship isn't getting the attention it deserves.
Be realistic in your expectations of your family vacation (Reasonable Expectations and Healthy Goals and Mental Illness). See family vacation as an opportunity to get your family away from your usual distractions. Accept that things may not go as planned. Accept that at least one kid will get sick. Accept that the kids will fight and need disciplining. Accept that you and your partner will disagree at some point during the vacation.
Stay long enough to make your preparations worth the effort. Nothing is worse than having to pack everything back up before you've had time to enjoy your family. Make a deal with your family: if we can't get a campsite or cabin or room for so many nights, it's not worth the effort.
Pre-make meals. Everything from hamburger patties to pancakes can be prepared ahead so that meal prep and cleanup are minimal.
Plan Ahead and Let Go of What You Can't Plan
I've realized that I need to get more realistic about our family vacation. I needed to remind myself that the kids will still fight and my husband and I are not going to agree about everything. That's okay. No family is perfect, especially a family on vacation.
I'm hoping that by going to all of this work to take our little crew camping each year, that the good memories will outweigh the bad. And that somewhere between the car trips that never seem to end, the bickering and the campfire-singed dinners, we are actually, amazingly, become closer as a family. That thought alone is worth surviving family vacation and will, hopefully, keep me from losing my mind.
Connect with Taylor on Facebook, Twitter, Pinterest, Google+, and her blog.
APA Reference
Arthur, T. (2016, July 14). Surviving Family Vacations Without Losing Your Mind, HealthyPlace. Retrieved on 2023, June 7 from https://www.healthyplace.com/blogs/mentalillnessinthefamily/2016/07/survive-your-family-vacation-without-losing-your-mind
Author: Taylor Arthur