Emotional Validation in the Face of Mental Illness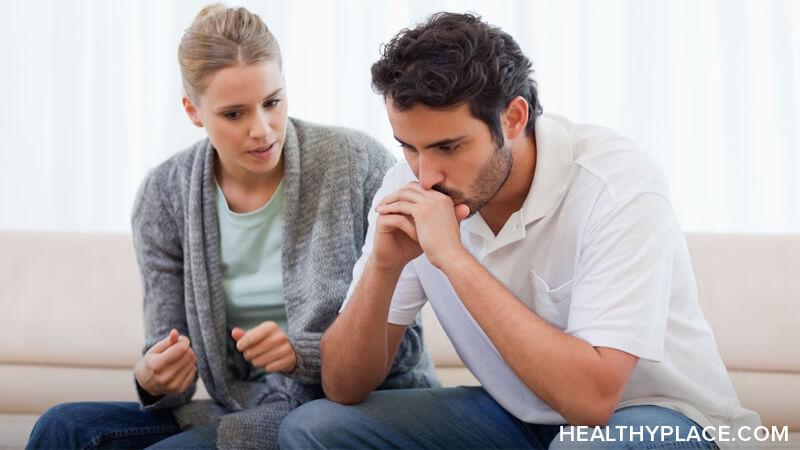 Emotional validation counteracts the lack of stability that may accompany living with a family member suffering from mental illness. Indeed, that lack of stability is challenging to endure. My husband and I usually live day to day or week to week without knowing what our future might hold. Yet, the best way to cope with this instability is to work together and focus on emotional validation.
Instability Is a Constant with Mental Illness -- Emotional Validation Should Be Too
Before my husband's most recent series of hospitalizations and his schizophrenia diagnosis, our lives were seemingly perfect. Our life plan was mapped out in detail. He was a new physician assistant with a high-paying job. We were expecting our third child and were preparing to purchase a home. How fast life can change.
 
I didn't know what to do following my husband's hospitalization. I wasn't earning an income and I didn't know how to explain things to our children and I had no idea what our future would hold. But life changed quickly once again. Over a year later, my husband is far more stable and some of our most significant trials are in the past. We have three amazing children, a farmhouse renovation project, and prospects for the future. My husband is now a part-time college professor, and we are hoping to eventually run a bed-and-breakfast out of a renovated barn on our property.
Finding Stability Takes Time and Effort
We didn't arrive at this point overnight. My husband didn't start a cure-all medication his first night in the hospital and return home symptom-free the next day. Even now, over a year later, he still isn't symptom-free. He may never be. We are still actively engaged in medication changes. We still attend therapy. My husband still suffers from schizophrenia, and he always will. Despite our recent improvements, instability persists.
 
Please don't take this to mean that there cannot be a happy ending. We are happy. Our family is doing well, but this is a process for each of us. We find something new to work on every day, and it may be that way for a long time. For my husband, this is particularly daunting and even downright discouraging at times. To be honest, sometimes I feel the same way. But it is crucial that we remember to encourage each other continually.
The Importance of Emotional Validation
In particular, it falls on me to encourage my husband. I cannot begin to imagine how he must feel. He was on top of the world before it all came crashing down. Now he lives each day reminding himself of the need to continue on and try his best. When he is feeling discouraged, it is really important for the kids and me to tell him that we love him, that we need him, and that he has many redeeming qualities. 
Mental illness is not only emotionally trying for caregivers, but also for the person suffering. Don't be afraid to remind them of what they have to offer. They often need help to remember that, even though their path through life may change directions, they are still capable of great things. Even the smallest accomplishments can make a difference. As silly as it sounds, sometimes just seeing my husband get out of bed and put waffles in the toaster for the kids is a sign of a good day to come. Remembering to thank him for such a simple act may seem unnecessary, but it validates his efforts.
It is vital to encourage others and show gratitude for their actions. It reminds those around us that we care and that, no matter what may come our way, we will always be there. It tells them that we will try to help, support and love them despite their mental illness. Mental illness does not make your loved one a failure. Nor does it mean that they are incapable of accomplishing great things.
APA Reference
Law, M. (2019, May 3). Emotional Validation in the Face of Mental Illness, HealthyPlace. Retrieved on 2023, September 30 from https://www.healthyplace.com/blogs/mentalillnessinthefamily/2019/5/emotional-validation-in-the-face-of-mental-illness
Author: Megan Law
This is such a beautiful read. Showing others, on a consistent basis, that we love them and that we believe in them is so important. I love this part in particular: "It is vital to encourage others and show gratitude for their actions. It reminds those around us that we care and that, no matter what may come our way, we will always be there." Encouragement and gratitude are such powerful pieces.
Lizanne,
Thank you so much for reading and for your kind comments. It is definitely difficult to encourage others when you feel you're in need of encouragement, but it is so very important to those with mental illness.
Leave a reply