Saying No to Others; Saying Yes to Yourself
Saying No is probably THE hardest thing to do. But, not only with the kids. I'm talking about saying no to other adults - friends and family. While parenting a child with mental illness is a challenge, having the adults in your life asking you for things may add to the stress you already feel. Piling on more things to do when you're already under pressure is no good. And that's no way to practice good self-care.
Saying "No" to Myself, "Yes" to My Friend
[caption id="attachment_1911" align="alignleft" width="150" caption="Saying No"]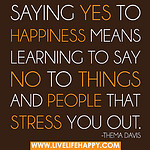 [/caption]
Recently, I met a friend for dinner that I hadn't seen in a really long time. Probably a year. She is nice and is a fellow single mom. However, she's a workaholic. And while I work to live, I don't live to work. During the conversation, I mentioned that I was on vacation that week. A nanosecond later, she asked me if I could babysit her two boys because they'd be out of school early two days the same week.
Now, I know my face said it all. I was exhausted and run-down. After nine months of work without a vacation plus dealing with Bob and his father, I felt like I was being flattened in a panini press. Except, my friend could not tell what was on my face. She only heard that I was on vacation. In her mind, I was free to help her out.
Of course I wanted to help her out. NOT! I wanted to sleep for a week. But, saying no has always been hard for me. Throw in a couple of kids and it's practically impossible. Against my better judgement, which was screaming for rest, I said no to myself and said yes to my friend. Excited, she gave me the details for me to sit for her kids.
Saying No and Putting Yourself First
That night I was so exhausted, I fell asleep right away. The next morning, Bob went to school and I went back to bed. A few hours later, I woke up thinking about my decision. Saying yes to her meant saying no to myself and denying myself a well-deserved break from work AND kids. After all, I work with kids all day and then have Bob (and his father) after that.
After going back and forth about it, I called and cancelled. She was so upset, she said nothing. My friend is a chatterbox, so I knew that no sound from the other side meant she was angry with me. I apologized profusely and said that I HAD to put myself first by saying no to her.
As angry as she was, I knew I made the right choice. I regretted saying yes right away instead of telling her that I'd have to think about it. Then again, I also felt that my friend could have been a bit more sympathetic towards me when I said I was tired and needed my vacation. Lesson learned. From now on, I'll be saying no to others and saying yes to my health and well-being.
Saying no is part of parenting a child with mental illness. Not for your child, but for yourself. Saying no allows you to take control of a situation and prevent you from going through even more stress. Saying no allows you to better care for the most important member of the team - YOU.
photo credit: deeplifequotes via photopin cc
APA Reference
Zalamar, H. (2013, April 3). Saying No to Others; Saying Yes to Yourself, HealthyPlace. Retrieved on 2023, September 27 from https://www.healthyplace.com/blogs/parentingchildwithmentalillness/2013/04/saying-no-to-others-saying-yes-to-yourself
Author: Heiddi Zalamar, LMHC, MA