Stress and Mental Illness
I usually choose a specific topic for these blogs and work to describe the importance of managing and accepting mental illness. Last week, I wrote a blog focusing on recovering from and recognizing depression. This week, based on my life currently, I want to talk about stress and the impact it has on those who live with mental illness. I am really struggling with this right now.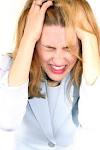 I have touched on the reality of life stress negatively affecting recovery, but what about when you are not sure it indicates possible relapse? How can we decide whether or not our stress level is based on our current circumstances, or something more?
Defining Stress
Life is stressful. We all recognize this. But to provide you with an example from my own life: I am experiencing a high level of stress, much more than usual (and I struggle with an anxiety disorder), and things in my life are more difficult than usual. A relationship on the rocks, the stress that inevitably comes with publishing a book, and monetary stress.
When I think of these things, I assume that the high level of anxiety is due to these struggles. Life itself. That makes sense. But it doesn't. Not when you have a mental illness. Not when you analyze your mood on a consistent basis and fear relapse. This thought process contributes to stress and the cycle is damaging.
We can define stress as a natural reaction to changes in life, physical and mental, but if you have a mental illness you need to dig a bit deeper. A lot deeper.
Stress and Mental Illness

The symptoms of stress can impact sleep and appetite, energy level and mood. This is why it's difficult to figure out if you need to seek help or just weather the storm. I have been struggling with this. My appetite is diminished. The natural desire to eat has left me. I wake up before 5 a.m. or I find myself asleep by 6:30 p.m. This is not normal for me. I am agitated and sad. Something is not right. It took a while, a month or so, before I came to the conclusion that I need to seek help. I hate that it has come to this but am grateful I am able to recognize it.
When you have a mental illness, your reaction to stress is probably different. That being said, your approach to it needs to be different as well.
Accepting Help
I have trouble with this. Many of us do. After all, who wants to admit they need help? We might ask ourselves, why can't I do it on my own? But the reality is that those with mental illness need help. Not all the time, but sometimes. The sooner we can accept this, the faster we can get better.
This is where I take my own advice (grudgingly): it's time to make an appointment with my psychiatrist, tweak my medication, and wait a couple weeks to feel better. This blog is entitled Recovering from Mental Illness for a reason--recovery is the consistent pursuit of a stable and healthy life. Stress can just be a normal reaction to life, but its worth it to check in with your family, friends, and psychiatrist.
After all, we all fall from time to time--picking ourselves up is what matters most.
APA Reference
Jeanne, N. (2011, November 14). Stress and Mental Illness, HealthyPlace. Retrieved on 2023, October 3 from https://www.healthyplace.com/blogs/recoveringfrommentalillness/2011/11/stress-and-mental-illness
Author: Natalie Jeanne Champagne
I have been a life long depression sufferer. Raised in an alcoholic abusive home, my life has been colored by a ggod deal of sress. I am learning to change my thinking. When I get myself in an attitude of thankfulness my mood begins to lift. Staying in contact with positive thinking people and doing as much networking as possible also helps. My problems with sleep have been relieved with vitamin and amino acid therapies. I teach music out of my home and do music therapy in local nursing homes. At age sixty seven, my life just keeps getting better and better.
Barbara Altman, author of Cry Depression, celebrate Recovery
We live on time overloaded with many life demands that from time to time become undesirable and intolerable as well. This is the side effect of current civilization in which the race of personal, social and material prestige moderate our life activity and behave. All these psycho-social engagements and efforts in psychiatric practice are nominated as stressogen factors, that overloaded psychic apparatus to mental health persons. When it is in question mentally ill subject this ill-action is manifested with many difficult consequences. Therefore, it is necessary to learn patients how to manage stressful life events. These psycho-social skills would decrease ill-repercussions of unavoidable daily stress moments. In first line are the customs to dealing in active manner with life problems. While, by avoidable attitude as common manner to overcome stress situations, complicate and worsen primary psychiatric illness, as well as unpredictable morbid effects of stress.
Hi, Christy:
Even though this is online we can support each other. The words we write make us human and able to connect and I am so glad we can do this!
And yes Michele, this too shall pass is always a great thing to keep in mind.
Sincerely,
Natalie
Natalie, you are so right. Knowing that I am not alone in my feelings helps so much. I really enjoyed your most recent blog, it just made me feel better.
Michele, I am so very sorry for all that is going on in your life. I am glad to hear that you have been feeling better and that you are working with a therapist. I'm definitely sending you and your family good thoughts. Hang in there.
Natalie, I was just reading where you wrote how things put life in perspective, you are so right.
Hi, Michele:
Perhaps it's the time of year. It seems many people can relate. I am sorry to hear about your husband---it puts life in perspective. When i was the same age as your son I struggled with adhd and anxiety. I also could not go to school. My parents found a smaller program for me--less people less anxiety but it was still hard. Take care of yourself!
Natalie
I can relate too. My husband was just diagnosed with cancer, my 13 year old son has adhd and anxiety and refuses to go to school a lot, not getting much help from the school, my mom has alzheimers (she's only in her 60's), plus there's me. I've been really sick for 4 years and it's finally lifting and I feel guilty for feeling good under the circumstances. But I worry about the stress because I know it brings on bipolar symptoms. I don't want to go down again. I am working with my therapist and psychiatrist though, so my meds are being tweaked and my therapist is helping me with my anxiety and liking myself. So I just hope everything works out for me and you too!
Michele
Hi, Christy:
I am sorry for the sress and pain you are going through--I can relate. At least we are not alone. That is why is important for people to talk about it; it eradicates the feeling that we are alone in our struggle.
Stress can throw you for a loop; life can quickly become tangled and dark. But we can get through it. I try to remember the times I have experienced even greater stress---and survived. And you will too.
Sincerely,
Natalie
I am in this position right now. We've had two deaths on my mother's side of the family, both leaving cousins of mine widows, this year. We are soon to have a death on my father's side of the family as my Uncle is dying of cancer. I recently have been doing better with my anxiety and depressive symptoms, but these deaths are really throwing me. It brings up so much past loss and future fear. I'm hoping that when things settle down, I'll go back to doing better. Of course, we have Christmas first. I'm not sure how that'll go.
Leave a reply