Unacceptable Delays in Receiving Mental Health Treatment
It's hard enough to decide to seek mental health treatment, but when you factor in delays, it's even more daunting. When I was discharged from the Army, they gave me a 30-day supply of my psychiatric medications and a list of mental health providers in my area (I am not eligible for Veteran's Administration (VA) benefits because I wasn't in long enough.) It took me three months to get in to see a psychiatrist in private practice--I was lucky. It can take up to a year to see a psychiatrist at the VA.
Solving Unacceptable Delays in Receiving Mental Health Treatment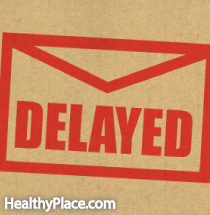 So how can we solve this unacceptable delay in mental health treatment? Public funding of the mental health system is a start. In order for people to receive quality mental health treatment, we need to perceive that it is everybody's problem. Everyone has to have a metaphorical dog in the fight or our current "treatment failures" of mental illness and homelessness and incarceration will continue.
Another idea is to recruit more mental health professionals by offering student loan forgiveness for those in public practice.
What are your ideas?
You can also find Becky Oberg on Google+, Facebook and Twitter and Linkedin.
APA Reference
Oberg, B. (2015, February 11). Unacceptable Delays in Receiving Mental Health Treatment, HealthyPlace. Retrieved on 2023, February 6 from https://www.healthyplace.com/blogs/recoveringfrommentalillness/2015/02/unacceptable-delays-in-receiving-mental-health-treatment
Author: Becky Oberg
I can't even get health coverage :'(
I've been untreated for almost 3 years now. Sad part about it is I've been wanting HELP, TREATMENT again.
Very good post. I'm going through a few of these issues as well..
Leave a reply