The Therapeutic Value of Animals in Mental Health Recovery
Research has shown the therapeutic value of animals. We've all seen service animals, but did you know that some states recognize psychiatric service animals or therapy animals? Some states, like Florida, allow psychiatric service dogs. And my state, Indiana, allows therapy animals. What legal protection they have depends on the state you're in, but it brings up the issue of the therapeutic value of animals.
Animals' Therapeutic Value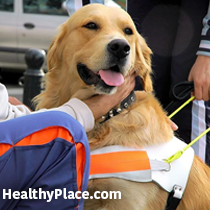 I have two female rats, Annabelle and Cocoa. Since adopting them, my condition has improved. I have something to take care of, which eases my depression (Interacting with Animals Fights Depression). I have a coping skill to help with self-injury thoughts: watching the rats play or petting them.
Therapy animals, even if they have no legal protection, can be beneficial.
I Believe in the Therapeutic Value of Animals Video
In this video I talk about companion animals and their health benefits.
You May Also Like:
You can also find Becky Oberg on Google+, Facebook and Twitter and Linkedin.
APA Reference
Oberg, B. (2016, January 29). The Therapeutic Value of Animals in Mental Health Recovery, HealthyPlace. Retrieved on 2023, September 30 from https://www.healthyplace.com/blogs/recoveringfrommentalillness/2016/01/the-therapeutic-value-of-animals
Author: Becky Oberg
Hi Becky, I found it interesting when you said that an animal can help in treating mental health issues like depression. My friend is so depressed now because he lost his beloved wife. Do you think it would help him if I give him a dog? It would be his first pet just in case. Thanks.
Leave a reply