The Need for Mental Health Courts
We are overdue for a conversation on the need for mental health courts. My friend, Hector Barajas, a U.S. Army veteran, developed posttraumatic stress disorder (PTSD) as a result of his service in the 82nd Airborne during the Gulf War. He was honorably discharged, but his illness was not acknowledged. In the midst of a flashback, he fired a gun. Although no one was hurt, he was arrested, convicted of a felony, then deported for life--he thought his service made him a citizen, but was misinformed and paid a drastic price. Hector and the estimated 30,000 veterans like him who have been deported largely for crimes committed due to PTSD are the poster children for the need for mental health courts.
Mental Health Courts Are Needed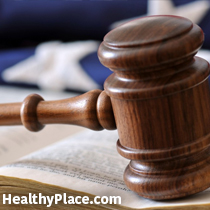 It has been shown, repeatedly, that prisons are not healthy environments for people with mental illness, but, unfortunately, our jails and prisons are often the largest treatment providers in the area. For example, the leading provider of mental health services in Indianapolis is the Marion County Jail. Even prosecutors in Indianapolis are frustrated with the lack of a mental health court--sick people belong in a hospital, not in a jail or prison which often worsens their symptoms.
In this video, I talk about the need for mental health courts as an alternative to regular court. It's the right thing to do for everyone involved. This isn't softness on crime, this is the true meaning of justice--where everyone involved sits down and comes up with a plan that restores a person's mental health rather than punishes an illness.
You can also find Becky Oberg on Google+, Facebook and Twitter and Linkedin.
APA Reference
Oberg, B. (2016, May 20). The Need for Mental Health Courts, HealthyPlace. Retrieved on 2023, December 6 from https://www.healthyplace.com/blogs/recoveringfrommentalillness/2016/05/the-need-for-mental-health-courts
Author: Becky Oberg
We definitely need something done about people who are mentally ill that are being sent to jail instead of treating their illness. My son is one those people placed in jail when he needs to get treatment, something that is not being done while he is locked up like a criminal. It is very upsetting that someone who has a severe mental illness and is over the age of 18 yrs cannot have a parent speak on their adult child behalf or check that he/she is ok. This is very upsetting especially to me a mother of an adult son who has schizoaffective disorder. My son was put in jail because of something someone said he did and when the cops were called and the officer asked him what he was doing , due to his reply the officer felt he was admitting gilt so he took him in. For 11 months he was locked up and not charged because of him untreated illness he would not allow anyone help him or would not corporate because of his illness. After 11 mo my son finally let me visit him, seeing him broke my heart - he was thinner than he ever was, pale and on top of this they had him in the general population where his cell mate flushed his hearing aid down the toilet, hi only way of hearing was taken away from him because they would not place him at least in the mental health unit when they knew he was mentally ill. After my visit I let the social worker know I was devastated at my sons appearance and felt he could die, it looked like he was not eating he was starving. He was discharged less than a week later. My son once again is back where he was in jail, this time he is in there for 10 months for violating parole. What parole he is Ill no crime was proven. Something needs to be done to help my son and others who are Ill to get treatment and not be punished.
Leave a reply