How the Government Can Help People With Mental Health Issues
The government can help people with mental health issues. I am on Social Security Disability Insurance (SSDI) and Supplemental Security Income (SSI) and run a small freelance writing business (How To Get Disability Benefits For Mental Illness). Until recently, I could not get insurance because of my schizophrenia being a pre-existing condition, which forced me to stay on disability so I could get Medicare and Medicaid so I wouldn't be wiped out again if I were hospitalized. This meant I had to watch my income. So I have plenty of ideas about how the government can help people with mental health issues.
The Government Can Recognize That Mental Health Disabilities Vary in Severity
Recovery is real, but so is regression. A mental health disability, unlike a more traditional, physical disability, varies in severity as time progresses. For example, some days I can pass myself off as a non-mental health consumer, and some days I'm in the hospital. My disability varies in severity from day-to-day--or, more accurately, week to week.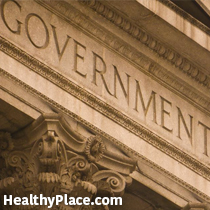 Currently, I'm on medication and in therapy. Some people can work like that. I'm not one of them. So I rely on the income from SSDI and SSI to pay the bills, with my business income covering other expenses (food, clothes, three pet rats, etc.). I worry about losing my disability because I'm working part-time. All it takes is one bout of hallucinations to have me broke, unemployed, and homeless again--and if I'm off disability, I face going through a process that took me two years last time--and that's on the quick side.
The government needs to recognize that disability varies in severity--sometimes the person can work, sometimes they can't. The government can help people with mental health illness by creating a program which allows disability to be reinstated quickly if we regress. We shouldn't have to go through a years-long process again if we've already been ruled disabled once. I've seen plenty of homeless people in that situation in Indianapolis.
The Government Can Help People with Mental Health Issues by Creating a Way to Come Off Disability
I love my job. I would also like for my income to be higher than it is and take on more work. But as it is, if I make above a certain amount ($900 a month), I risk losing my benefits, including medical coverage for treatment that costs a couple grand a month. Do the math. I've already been wiped out by being hospitalized without insurance once and don't want it to happen again. So I stay on disability as a safety net, and the system perpetuates itself.
My right-wing conservative father used to believe several myths about disability until I went on it and he saw for himself what it entails. "It's perpetuating," he said. "You have an $800 car that doesn't run, so you can't work, and you can't get a better car because you'll lose your benefits."
Dad's right--the system prevents you from coming off it. There needs to be a way to come off disability if we start recovering.
This is where the government can help people with mental health illnesses with the Affordable Care Act, as well as legislation mandating mental health parity. I need insurance that covers my pre-existing condition and insurance that treats mental illness like any other disability. I need to be allowed to work without fear of losing medical coverage--the wage limit needs to be raised from $900 a month, and the asset limit needs to be raised as well (in Indiana it's $1,500 total, so Dad's $800 car is a pipe dream for me).
The Government Can Help People with Mental Health Issues with Consistent Treatment
When I was uninsured, I paid for treatment on a sliding scale and for the most part got the treatment I needed. When I went on Medicare, I no longer qualified for the sliding scale, and my mental health provider was forced to charge a certain amount--which was more than I could afford. This forced me to cut back on treatment, which caused my illness to get worse, which caused me to need more treatment that I couldn't get. Treatment needs to be consistent.
We need a common-sense approach to paying for treatment. We need for it to be affordable, possibly by subsidizing it. No one should have to start a GoFundMe page to pay for treatment. No one should be forced to go without treatment just because they're poor.
So that's how the government can help people with mental health issues. What do you think can be done?
You can also find Becky Oberg on Google+, Facebook and Twitter and Linkedin.
APA Reference
Oberg, B. (2016, August 15). How the Government Can Help People With Mental Health Issues, HealthyPlace. Retrieved on 2023, October 4 from https://www.healthyplace.com/blogs/recoveringfrommentalillness/2016/08/how-the-government-can-help-people-with-mental-health-issues
Author: Becky Oberg
I Richard M. Dinsay mental ill i want to work. But i could nt find a job. I went to los angles city college i took college algebra and my grade is a+ and esl my grade is b. I want to go to school in community college but i dont have enought money to spend my studies. I would like to take computer science .
I could read good and comprehence good and consentrate good. I could able to write and type. I know how to fill numeric and alfabtic. I have no impulse control disorder. please help me.
I LIVE IN CANADA AND IM IN THE STAGE OF DIEING BECAUSE I HAVE 2 LUNGS FULL OF ASBESTOS I HAVE THE WORST CASE OUT THERE OF PSORIASIS PLUS PLUS AND I CANT GET ANY HELP AT ALL OUR IN COME A MONTH IS 2,400 SO WHY IS THIS I WORKED HARD ALL MY LIFE HELPING OTHERS NOW WERE IS THE HELP I NEED IM 74 AND I HAVE A RIGHT TO LIVE TO SO I HOPE SOMEONE OUT THERE CARES ENOUGH TO HELP ME PLEASE
Thanks for posting this! I think we're definitely in need of more mental health related support in Canada. Depression is running rampant - it's a hidden epidemic in my opinion - and there is so little support structure there for people. I'm going through divorce and have been for a while ( :S ) and it's gotten to the point where I feel like I've become really depressed. I just want it to be over. He won't even try. I want to do things the honest way, by ourselves. There's even an app I think we could use ( www.thistoo.co ). But, he won't lift a finger except to contest anything I try to file with the courts. I think you could write a million posts about the horrors of the family law system and how it rips people and families apart. I know the situation is just as bad in the States as it is up here. Thanks,
Alice
Becky, your story and voice so mirrors my story. I was initially turned down foe SS Disability two times before finally the third time I appealed it, I was approved. This took over two years and I have been on disability because of my MDD, anxiety, mood disorder and PTSD for 20 years now. Every 5-7 years I have to go through a re-evaluation by a SS doctor who doesn't know me to validate I'm still disabled. Luckily before my disability, I was in the medical profession for 20 years (RN), so that has helped me manuver the government and SS. I don't know how everyday folks manuver through this system. I do feel for those people. And I'm glad there is an advocate like yourself who helps those people. It has been tough enough for me at times, and I understand the medical documentation they need! Thanks for this article and I followed you on Twitter; feel free to DM me anytime.
Leave a reply