Creative Outlets Enhance Your Recovery From Mental Illness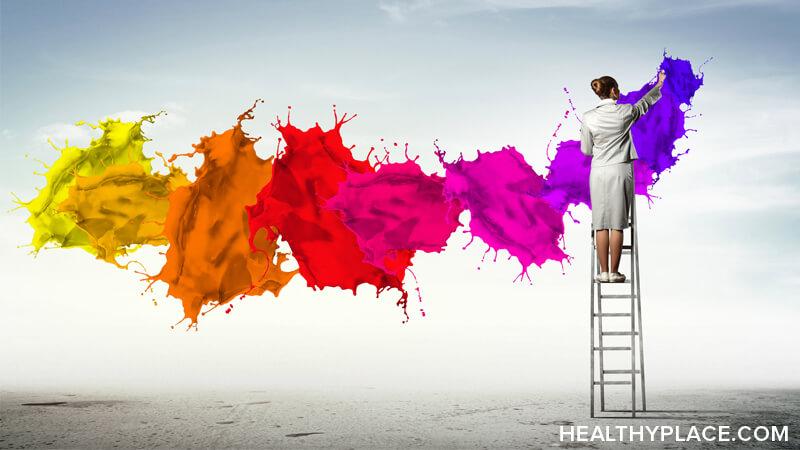 Creative outlets enhance your recovery from mental illness and can have a remarkable effect on our emotional wellbeing, whether one has a mental illness or not. Art played an integral part early in my recovery from bulimia and schizoaffective disorder, and it remains a very important part of my life today. Art is my medicine, but any creative pursuit can enhance your recovery from mental illness.
Why Art Enhanced My Recovery from Mental Illness
When I first sought treatment, sometimes it was easier to show what I was experiencing rather than tell. Drawing and painting became meaningful and therapeutic ways for me to express my feelings. I spent five weeks at a treatment center in 2004. Most of the patients had journals, but I kept a sketchbook. I drew constantly and it became the driving force that truly enhanced my recovery from my mental illnesses.
Over the next several years, I participated in many art shows across the country, and later I started to branch out. I created work unrelated to my mental illness. I went to college and graduated in 2014 with a degree in commercial art. In 2015, I started a design business creating graphics for children's clothing and accessories. As you can see, art gave my life direction, and it gave me hope, too.
There are many ways to express yourself creatively, to the visual and performing arts to writing. Here are just a few ideas to enhance your recovery from mental illness by getting your creative juices flowing.
Art and Music Therapy Both Enhance Mental Illness Recovery
As defined be the American Art Therapy Association, art therapy is:
The therapeutic use of art making, within a professional relationship, by people who experience illness, trauma, or challenges in living, and by people who seek personal development.
Many mental health agencies and treatment centers employ art therapists. Art therapy can help you relieve stress, work through traumatic experiences, and resolve conflicts. As such, art therapies enhance your mental illness recovery through therapeutic art. Search "art therapy" on Pinterest to get an idea of projects that are used in art therapy.
Music therapy is similar to art therapy. The American Music Therapy Association explains,
After assessing the needs of each client, the qualified music therapist provides the indicated treatment including creating, singing, moving to, and/or listening to music.
Creative Pursuits to Enhance Your Recovery from Mental Illness
Visual Art
There's lots of media you can explore in the visual arts, from 2D art like drawing, painting, and graphic design to 3D art like ceramics and sculpture. Not only is it therapeutic expressing your feelings through the subject of your artwork, many people find the process of creating art stress-relieving. Check out classes at a local community college or art supply store.
Musical Pursuits
If you are musically inclined, you could compose music or write song lyrics. Singing or playing an instrument can relieve stress, and taking lessons is a great way to set goals and stay motivated. See what's available in your city, such as a community band or choir.
Journaling and Blogging
Many people keep a journal in recovery, and it can be a great way to get your feelings out which automatically enhances your mental illness recovery. It can also be a helpful way to keep track of issues you want to work on with your therapist. Blogging can be similar to journaling, but you are sharing your work with others online. Many people enjoy joining blog communities.
Crafts
Just like with visual art, many people find the process of creating craft items stress relieving. Pinterest is also very helpful in finding craft projects. You can even make a little extra money by participating in a local craft fair or by starting an Etsy shop.
Many people find creative outlets extremely helpful in mental illness recovery. I am definitely one of them. I'm even trying to make a career out of it. Even if you don't feel like you're creative, you can still support the arts by going to a gallery or museum or by attending a concert. Enjoying other's work can also be very moving. The arts are powerful, so give it a shot and see if the arts can enhance your mental illness recovery.
See Also
https://www.healthyplace.com/blogs/survivinged/2017/01/the-importance-of-art-in-eating-disorder-recovery/
https://www.healthyplace.com/blogs/buildingselfesteem/2015/11/creativity-to-build-self-esteem/
https://www.healthyplace.com/blogs/copingwithdepression/2016/02/creative-activities-may-relieve-depression/
APA Reference
Rahm, M. (2017, November 1). Creative Outlets Enhance Your Recovery From Mental Illness, HealthyPlace. Retrieved on 2023, November 29 from https://www.healthyplace.com/blogs/recoveringfrommentalillness/2017/11/creative-outlets-can-enhance-your-recovery-from-mental-illness
Author: Megan Rahm
Active and inventive approaching to process of recovering from any mental illness exhibits mindful and effective way to satisfying psychiatric treatment and management of patient with mental difficulties. In this direction yours simple propositions presents practical tools to accomplish the above mention statement. Art and music therapy takes primary place on daily management of successful recovering of any patient with chronic and serious mental disorders, such are psychosis, mood disorder and so on. Depending of personal preferences and opportunities, each psychiatric patient may to choice and realize any form of art or music therapy, that emotional relax the respective psychiatric patient. In this spectrum of enhancement activities take part many others creative and amusing engagement such are drawing, paining, journaling, blogging, cleaning, cooking, gardening, reading, many other manual crafts etc. In a word, every psychiatric patient should participate in active manner to any mental and physic activity to overcome numerous negative consequences of mental disorder.
You can recover from mental illness with antipsychotic drugs, willingness to recover, and cannabis! Thank you for the information.
Leave a reply