5 Ways to Cope with Breakthrough Symptoms Caused by Stress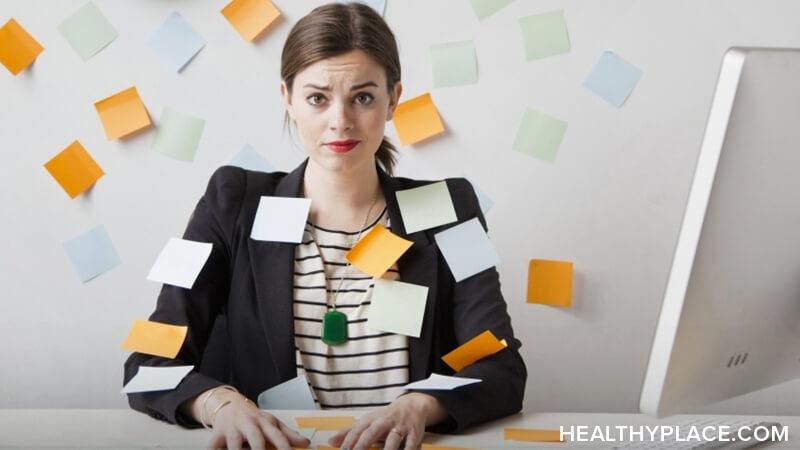 Breakthrough symptoms caused by mental illness can really hinder your progress towards goals; however, reaching your goals is not impossible. Stress exasperates mental illness symptoms, but that doesn't mean you should give up. Understanding your symptoms as well as your limits can be crucial to your success.
I consider graduating from college one of my biggest achievements, but it was a rollercoaster of triumphs and failures. It was a lot of work, and I struggled with mental health symptoms. I dropped out four times but kept going back. It took almost 14 years, but I did it. It was worth it both personally and professionally. 
Today I am involved in the arts and mental health fields. I'm a workaholic, but I'm also a mom. I frequently experience mental illness breakthrough symptoms caused by stress. I accept the symptoms in my life because I am unwilling to give anything up. You only live once and there's a lot I want to do. Here are some of the ways I make it work.
5 Ways to Deal with Breakthrough Symptoms While Following Your Dreams
Find a different way to achieve your goal. If you're having trouble pursuing a goal, maybe try a different path. Brainstorm ideas. Can you break your goal into smaller steps? Can you try a different way? Maybe you need to give yourself a little more time to achieve your goal.
Re-evaluate your priorities. If you are having breakthrough symptoms caused by stress often, it might be a good idea to re-evaluate your priorities. What's most important? What areas of your life require the most attention right now?
Become stronger by taking a break. Don't be ashamed to take a break if you need to. Sometimes a break is exactly what you need to regain your energy and get back in the game even stronger than before. You might be discouraged to take a break now, but in the end, it might be totally worth it.
Ask for support and help when needed. When you're stressed out, don't be afraid to reach out to your support system and ask for help. Maybe a family member can take the kids for a couple hours. Maybe a friend can hear you out when you need to vent your frustrations. Everyone needs help sometimes. You don't have to go it alone.
Know when to call your doctor. Of course, if your breakthrough symptoms are truly interfering with your functioning, it's time to call your doctor. If it's persistent and you have to question it, err on the side of caution and talk to your doctor.
Having a mental illness doesn't mean you can't achieve your goals, it just means you might have to be creative and flexible to find the right path for you. Sometimes breakthrough symptoms pop up as a result of stress. Find alternatives and do what you need to do to stay well, but don't give up. Keep moving forward.
How do you deal with stress and breakthrough symptoms in mental illness recovery? I'd love to read your ideas in the comments.
APA Reference
Rahm, M. (2018, December 19). 5 Ways to Cope with Breakthrough Symptoms Caused by Stress, HealthyPlace. Retrieved on 2023, June 8 from https://www.healthyplace.com/blogs/recoveringfrommentalillness/2018/12/5-ways-to-cope-with-breakthrough-symptoms-caused-by-stress
Author: Megan Rahm
I love your story! Your perseverance is inspiring, and your insight is spot on. I love your suggestions to brainstorm different paths, to ask for help when needed, and to take a break! All of these things can seem so simple, but when we're caught up in the symptoms these reminders are so helpful.
Leave a reply