Resolutions in Mental Health Recovery: Pros and Cons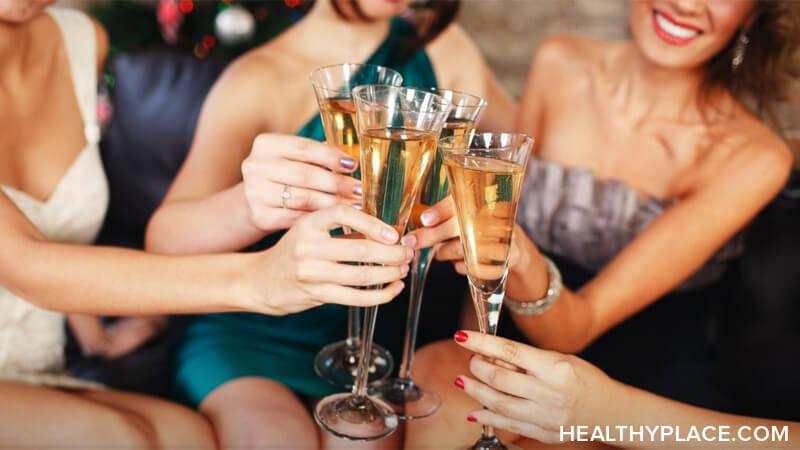 New Year's resolutions are tricky for everyone, but they can be particularly troublesome for those of us in mental health recovery. How do you set goals that will push you but won't push you over the edge? Is it possible to make resolutions that you can still accomplish even if it turns out to be a bad year for your mental health? Do you have enough faith in yourself to even set any goals this year? It's hard to know the answers to these questions, which begs another question: are New Year's resolutions a good idea for people in mental health recovery? I think they absolutely can be, it just depends on each individual person and their situation.
How to Decide if New Year's Resolutions Are Right for Your Mental Health Recovery
Personally, I am not a die-hard resolution person. I've made a few of them some years, but most years I forego the practice. This is because I tend to find it difficult to set myself year-long goals without an unreasonable amount of shame involved. It feels like I'm saying to myself "This is what you should be doing, but you're not because you're lazy, and we need to fix this right now." If you go into New Year's resolutions with this mindset, you are all but destined to fail. Even though shame is a very common motivator, and it can be a powerful one, it is not the best way to get long-term results. Plus, it can be incredibly detrimental to your mental health. If you find that shame is your main motivator, I would highly recommend avoiding New Year's resolutions this year.
The years where I've successfully made resolutions aren't necessarily the years that I've stuck to my resolutions perfectly. They're the years where I feel like I've set myself reasonable goals with the intention of growing as a person instead of trying to shame myself into being the person I think I'm supposed to be. If you feel that you are in a place where you're ready to grow (and forgive yourself if that growth doesn't go as planned) then making New Year's resolutions could be a great way to set goals for yourself in the upcoming year.
How to Accommodate Your Mental Health In Your New Year's Resolutions
Okay, if you've decided that you're ready to make New Year's resolutions, then the next issue to address is how to make resolutions that push you toward growth without ignoring the very real limitations your mental health may have on your ability to achieve those resolutions.
First, I recommend making broad resolutions rather than very specific goals. This allows you to shift your resolution to make it more doable if your mental health worsens. Some people may advise against this method, recommending instead very rigid resolutions in order to prevent you from weaseling your way out of actually sticking to them, but I think flexibility is one of the best ways to encourage growth when you have a mental illness. Strict, rigid goals with no wiggle room just aren't realistic for someone with a chronic condition that impacts their daily functioning in often unpredictable ways.
Second, share your resolutions with others, especially others who also have mental illness and will be understanding if you start to struggle with them. Accountability and encouragement can go a long way when it comes to sticking to New Year's resolutions.
Finally, once I've set my resolutions, I think it helps to break them into smaller goals that I can focus on month by month. By setting a broad goal, I give myself wiggle room, but by setting small monthly goals, I help ensure that I stick to my resolutions to the best of my ability.
What about you? Do you usually do New Year's resolutions? How do you think your mental health impacts that process? Let me know about your mental health recovery and New Year's resolutions in the comments.
APA Reference
Griffith, M. (2019, December 31). Resolutions in Mental Health Recovery: Pros and Cons, HealthyPlace. Retrieved on 2023, December 8 from https://www.healthyplace.com/blogs/recoveringfrommentalillness/2019/12/resolutions-in-mental-health-recovery-pros-and-cons
Author: Megan Griffith
This is a wonderful realization about the mindset of going into resolutions/goal setting -- "I've set myself reasonable goals with the intention of growing as a person instead of trying to shame myself into being the person I think I'm supposed to be." I love that you talk about intention and growing because these are truly two key areas of any goal. Later in your post, you also talk about breaking your goals down into smaller month by month steps, this is so helpful! It can be daunting when we set big, long term goals and that can keep us from progressing but giving ourselves smaller monthly steps to focus on is huge.
Hi Lizanne,
Thank you for your comment and the positive feedback. You are right—progress happens in steady increments, and goals for personal development are so crucial on this journey.
Mary-Elizabeth Schurrer
Blog Moderator
Leave a reply