Meditating with Mala Beads Reduces My Stress and Anxiety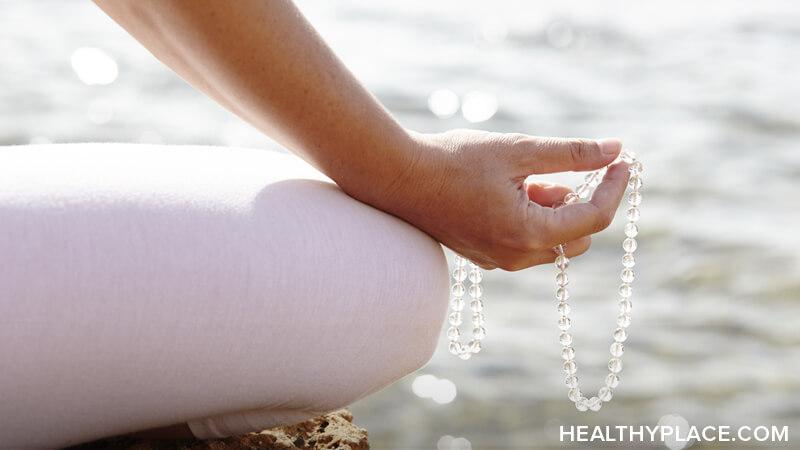 Mala beads may not help everyone, and, for me, dealing with my mental illness means medications come first. However, being open to learning additional methods to improve your life and functioning is also important. When you discover new and healthy ways to cope, go with it. Everyone is different, so use what works for you. I recently saw a post on Facebook about mala beads. I was intrigued and bought a necklace. I was excited when they arrived, and even though meditation had been difficult for me in the past, I was definitely willing to give it a try with my new mala beads.
Coping with the Stress of Work and Motherhood
As many people know, being a working mom is stressful, to say the least. However, despite the challenges, I am right where I want to be. I consider myself extremely fortunate. My daughter is an energetic toddler and I love watching her personality and interests unfold right before my eyes. Every day is an adventure where she learns new things. My career is advancing and evolving, and in many ways, I am living my dreams. With each success, I am hungry for more, and keeping up with my work and home life can be exhausting.
At times the stress has felt unbearable. I have negative thoughts racing through my head, and it can be really distracting. They've really been holding me back. Sometimes I feel overwhelmed and I don't think I can face the day. I have to approach everything step by step, minute by minute. I was willing to try new things because I felt a little desperate. I would do anything to curb the negative thoughts and better cope with the stress and anxiety.
Using Mala Beads to Cope with Stress and Anxiety
I'm a skeptical person, but meditating with mala beads has made a huge difference in my life for the past couple months. I was shocked at how noticeable the improvement has been. It has helped me redirect my negative thoughts and focus on the positive aspects of my life. Meditation with mala beads is how I provide myself with a little reassurance to face the day. However, many days it is also how I quiet my mind and get some much-needed sleep.
To use the mala beads, I say a mantra as I touch each bead. Many people use mala beads for prayer, but for me, they don't have any spiritual significance. How mala beads are used is up to the individual.
Now I wear my mala beads as a bracelet or necklace so they are always on me if I need to take a break and use them. I have to admit, every once and a while I hide in the bathroom at work with my mala beads, and it's amazing how much that little break calms me down.
Recovery is unique to each individual. There is no right path that everyone must follow. Be open to trying new things like meditating with mala beads, and if you find something helpful, make it work for you.
APA Reference
Rahm, M. (2019, March 27). Meditating with Mala Beads Reduces My Stress and Anxiety, HealthyPlace. Retrieved on 2023, December 8 from https://www.healthyplace.com/blogs/recoveringfrommentalillness/2019/3/meditating-with-mala-beads-reduces-my-stress-and-anxiety
Author: Megan Rahm
I love this as an additional tool for stress and anxiety reduction. There is truly so much beauty to mala beads and working with them. Choosing to string them yourself can be a whole new layer of process and relief. Getting to choose and work with the different properties of the different stones is a really beautiful exercise. Thanks for sharing!
Hi Lizanne,
Wow! I am definitely going to try stringing my own mala beads. I had never really thought about it, but that would be awesome to have that personal touch to my own beads.
Thanks for sharing.
Megan
Leave a reply