How to Speak Up When Your Therapist Is Wrong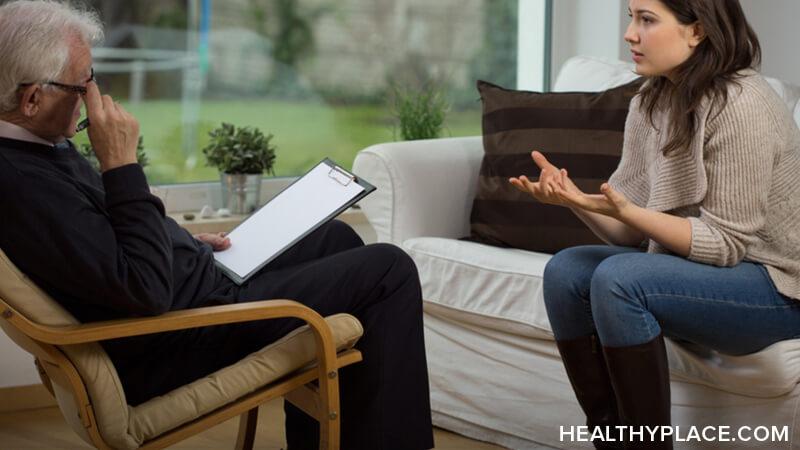 Therapy has been my number one tool in my recovery, but every now and again, my therapist is wrong about something, and it freaks me out. I've had several therapists over the years, and in the past, when a therapist misunderstood something I said or made an assumption that was incorrect, I had no idea how to respond. I felt ignored, wrong, and bad, and I had no idea how to say any of this to them. But it doesn't have to be that way. It is possible to speak up when you're being misunderstood.
It's Okay If Your Therapist Is Wrong
First, I want to reassure you that it's okay if your therapist is wrong. At first, I took this as a sign that my therapists didn't "get me" or that I had failed therapy somehow, but recently I've started to see it in a new light. Therapy is many things, but I usually treat it as a safe space to vent and get some reassurance from a professional that I'm going to be okay. These are good things, but therapy is also something else: a chance to learn and practice new ways of relating to others. 
The truth is, sometimes people are going to misunderstand you. They're going to make assumptions; they're going to be wrong. And a lot of the time, it won't have anything to do with you. We're all only human, and we're going to make mistakes. When this happens in therapy, it's actually an opportunity to practice how you can react when people misunderstand you outside of therapy.
What to Do When Your Therapist Is Wrong
The first step toward speaking up when your therapist is wrong comes well before there's a misunderstanding. You have to start by letting your therapist know that you sometimes have trouble correcting people or speaking up for yourself. I've found that it's easier to do this when there isn't any active conflict going on. If they know this is an issue for you, therapists can help you understand why it's so difficult for you, and they can be on the lookout for any potential misunderstandings that might upset you.
Still, even if you do talk to your therapist before there's an issue, it might still be very hard to speak up when there's a real misunderstanding. So here are a few tips that have worked for me:
Have you had trouble disagreeing when your therapist was wrong? Have you had any successes? Share your experiences with our community in the comments.
APA Reference
Griffith, M. (2020, September 22). How to Speak Up When Your Therapist Is Wrong, HealthyPlace. Retrieved on 2023, December 1 from https://www.healthyplace.com/blogs/recoveringfrommentalillness/2020/9/how-to-speak-up-when-your-therapist-is-wrong
Author: Megan Griffith