When Social Media Relationships are Good for Mental Illness Recovery
Much has been written about the damaging effects of social media on relationships, including the breaking up of marriages and dissolution of friendships. Obviously, the behaviors that lead to these situations are likely to be harmful for people recovering from mental illness. However, social media relationships can be good for mental illness recovery in certain situations. It is important to realize when those healthy relationships occur and how to take advantage of them.
Social Media Relationships Can Ward Off Isolation
When I was first diagnosed with depression, the most difficult thing for me was feeling alone in my disease. I was afraid to share my diagnosis with friends and family for fear of rejection, and my fear produced anxiety and isolation. Years later, I discovered blogging and then, Twitter. At first, I found Twitter to be lackluster -- I only followed people that I knew, so conversations remained the same as they were in my real life. However, I soon began following friends of friends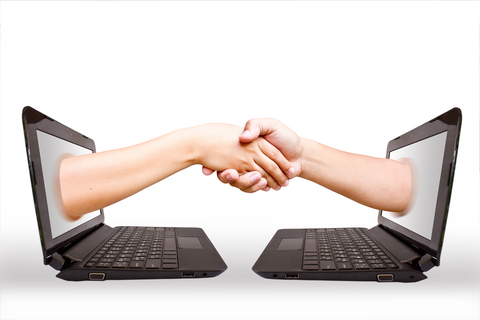 and organizations interested in talking about various topics, including mental illness.
Once I found a group of like-minded individuals, I not only began to form social media relationships but I also had an audience for my mental illness blog. Being on Twitter, with it's fast-moving conversations, allowed me the opportunity to interact -- anonymously at first -- with people from around the world. As time went on and we shared more information, those relationships became more meaningful and I received support for my blog as well as for my daily struggle with depression and bipolar disorder.
Even though Twitter dynamics have changed, I would still recommend it to people who feel isolated and alone with their disease. The sheer size of the "Twitterverse" makes it easy to find and interact with someone who shares your feelings and experiences. Also, the use of hashtags makes it simpler to search for relevant people and conversations. Another great thing about Twitter is that it allows for anonymity, a great option for people who want to share but worry about backlash from in-person friends and colleagues.
Social Media Relationships Can Build Community
Facebook can be another great tool for aiding in mental illness recovery. Though there are fewer possibilities for remaining anonymous, the format of Facebook groups allows for deeper interaction and relationship building.
Though there are different ways to use Facebook, I've always used my real name and have chosen only to friend people that I know in person. Therefore, I did not find an audience there for my early writings about mental illness, or about my disease in general. Some Facebook users choose not to disclose illnesses on their Facebook timelines for fear that they be found by employers. However, the advent of Facebook groups makes it easier to share that kind of information in a more private forum.
I think of Facebook groups as virtual support groups, where you can show up to interact with people like you and there is generally a moderator to guide discussions. Having a moderator helps mitigate triggers and works to make sure all participants have a pleasant experience. For someone in mental illness recovery, these groups may be more convenient to consume than in-person support groups yet they still provide the same aspect of community and group participation.
While each individual is different, I participate in a group for advocates of mental illness. It is tailored to my work reducing mental health stigma through writing about mental illness, and also includes friends, families and people with mental illness; in that regard, it provides greater points of view than a more homogeneous group. The great thing about Facebook is that once you follow an organization or raise a topic in your timeline, the application will suggest groups -- some of them closed and private -- to suit your interests. Similarly, you can start your own group to ensure private conversations and monitor the content.
Of course, you should be as careful about the information that you share on social media as you are in real life. However, Twitter and Facebook provide accessible opportunities to find community, get advice, and reinforce positive behaviors when you are living with a mental illness.
APA Reference
Lloyd, T. (2015, October 1). When Social Media Relationships are Good for Mental Illness Recovery, HealthyPlace. Retrieved on 2023, December 11 from https://www.healthyplace.com/blogs/relationshipsandmentalillness/2015/10/when-social-media-relationships-are-good-for-mental-illness-recovery-2
Author: Tracey Lloyd