Symbols and Signs That Can Help You Stop Your Self-Harm
Sometimes the signs we find that tell us to stop self-harming are tragic. Many people see the death of a loved one or a disease stricken friend as a symbol to move forward and away from your own demons. I am at fault because the death of my brother was what made me stop my self-injurious behaviors.
His struggle was what made me realize that my cutting was not worth the physical pain he had been tortured with. He had been one of the few people I had discussed my self-harm with and knowing he had been through so much pain, not caused by himself, made me almost feel selfish.
Yes, my brother's death was the tragic sign I needed to stop cutting. But now, looking around, I see so many other symbols that could have helped me stop.
The Littlest Symbols and Signs Can Make the Biggest Impact
It doesn't take a big situation to realize that change needs to be made. For me, and for many others, a big change was what made me move forward, but that isn't always the case. A simple quote from a book or a picture of a loved one can be the little push you need to make it a week, a month or a lifetime without fresh marks or scars on your skin.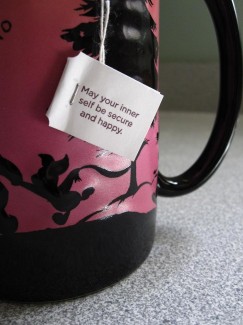 Over the last couple of months, tea has become almost a nightly routine for me. Sometimes, it does help me calm down and, at times, I drink it because it is just so damn good. Some tea packets have little quotes on them and those little phrases can be the push you need. Today, my Yogi Tea quote said, "Act, Don't React." For some people, that little line could be what makes your day cut-free.
After my brother died, I would go on walks and almost every day I would see a cardinal fly by. I've never been a fan of birds – well, mostly groups of birds. But when I started seeing cardinals every time I went on a walk, I couldn't help but think it was my brother keeping an eye on me. Now, every time I see one – I think of him.
Take the Time to Recognize Your Signs to Stop Self-Harm
It's the little things that make a difference, whether or not you realize it. Maybe you are someone who is talented at drawing or writing. A teacher could compliment you on your work – that could be your positive sign. Maybe your pet cuddles with you while watching TV or reading a book. Them showing you love can reinforce your belief that love still exists.
Whether it is a Yogi Tea quote or a cuddly pet, recognize the little things in your life that make a positive difference. That little ounce of positivity can be just what you need to make it a mark-free day.
Take that message and run with it because it could be the push you need to stop self-harming.
You can also find Jennifer Aline Graham on Google+, Facebook, Twitter and her website is here. Find out more about Noon through Amazon.com.
APA Reference
Aline, J. (2014, April 14). Symbols and Signs That Can Help You Stop Your Self-Harm, HealthyPlace. Retrieved on 2023, December 5 from https://www.healthyplace.com/blogs/speakingoutaboutselfinjury/2014/04/self-harm-symbols-and-signs-they-are-all-around-you
Author: Jennifer Aline Graham
This is a fabulous post. Makes me recognise a few recent positive comments made to me at work totally outweigh my negative ones to myself and actually made me have a mark free day two days ago. Thanks to this I'll recognise reasons to stop everytime they happen now.
Good and a very informative post for me. I like reading this post. Its a really very informative post for me. Thanks a lot for sharing.
Leave a reply