Do Not Let Wedding Season Stressors Turn into Self-Harm
Being twenty-five years old, I am smack in the middle of a time when many friends and family members are either getting engaged, married or popping out babies. While I am perfectly content with my job, boyfriend and Miniature Schnauzer, it can cause overwhelming anxiety to those who feel as if they need to rush forward with certain parts of their lives.
We tend to focus on adolescents who self-harm because, well, that's when most seem to struggle with it. However, even though I am unaware of the statistics, self-harm continues to be an issue for many even after high school graduation. I was twenty years old when my last cut was made, but who knows how many people in their twenties are still struggling with the need to self-injure?
When will I get married? Will I be able to have kids? How much longer until this all happens to me? When these kinds of thoughts start scrambling inside your mind, it is very tough to push them aside. Like all anxious thoughts, if you do not have healthy coping skills or a way to redirect, sharp objects and self-injury may seem like the right way out.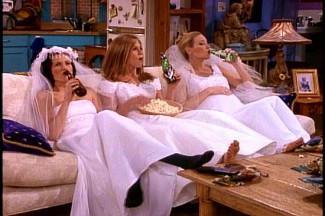 You don't want self-harm to be the reason you can't wear the sleeveless dress you've been hoping to wear for the next wedding you attend. Instead, it is important to rearrange your thoughts when you walk into the venue and see the entire spectacle in a different light.
Take the Self-Harm and Stress Out of Wedding Season
For those dealing with self-injurious behaviors, when everyone around them is saying "I do," stress can come on easily – especially if you feel as if you too need to hop on the bandwagon.
This month, I've attended two weddings and I still have four more to go for the rest of the year. During the most recent wedding, I knew very few people and had a lot of time to take in the atmosphere and appreciate everything going on around me. Not only was I a blubbering mess when my childhood friend walked, beautifully, down the isle, I realized a few important things that should be recognized instead of stressors that may erupt.
Embrace the atmosphere. Wedding venues can be some of the most beautiful and relaxing places. Take a moment to view your surroundings and refresh your thoughts. The beauty of everything around you can really bring forward a positive change of mood.
Step into the bride/groom's shoes. Instead of dealing with your own inner stressors and emotions, imagine the days leading up to the wedding and how the bride and groom must have felt. Realize how happy they must be now that the big day has come and allow yourself to feel that happiness for them.
Don't rush. Don't stress yourself out over finding love or about whether or not you'll become a parent at a certain age. Let life happen the way it is supposed to and things will fall into place.
You can also find Jennifer Aline Graham on Google+, Facebook, Twitter and her website is here. Find out more about Noon through Amazon.com.
APA Reference
Aline, J. (2014, July 7). Do Not Let Wedding Season Stressors Turn into Self-Harm, HealthyPlace. Retrieved on 2023, March 30 from https://www.healthyplace.com/blogs/speakingoutaboutselfinjury/2014/07/do-not-let-wedding-season-stressors-turn-into-self-harm
Author: Jennifer Aline Graham