Don't Assume Self-Harm Is a Suicide Attempt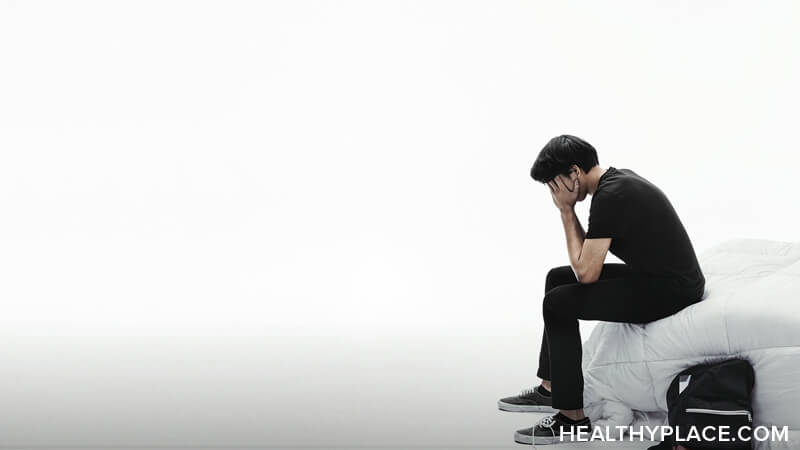 Trigger warning: This post contains a frank discussion of self-harm and suicide.
While self-injury can sometimes be a precursor to suicide, self-harm and suicide are not inextricably linked. Blindly assuming one always leads to the other can potentially hinder, rather than support, the healing process.
Self-Harm and Suicide Attempts Aren't Always the Same Thing
People self-harm for a variety of reasons. Yes, in some cases, this can escalate to a true attempt to take one's own life. But while self-harm and suicide attempts may look the same from an outside perspective, they are two very different things.
In my case, my self-harm was never about ending my life. It was about coping with my life—if anything, I was trying to stay alive. Because while I did think about death from time to time, I never set out to take my own life. I didn't want to die. I just wanted to feel better.
I'm not alone. People who self-harm may never end up attempting suicide. On the flip side, people who do try to take their own lives may do so with no prior history of self-injury. Think of it like a Venn diagram—these are two separate behaviors that sometimes overlap, but not always.
The Problem with Treating All Self-Harm as a Suicide Attempt
While it's tempting to err on the side of caution, it's problematic to always equate self-harm with suicide. One reason is that it may silence voices that would otherwise speak up. I know one of my reasons for hiding my self-harm was that I didn't want anyone mistaking my injuries as a sign that I was suicidal. I wasn't, and I didn't want to be treated as such. 
It's not shameful to be suicidal. It wasn't that I didn't want to be "one of those people." I just didn't want to feel so grossly misunderstood—especially when I already felt isolated by my silent struggle. Knowing that people will assume certain things, and knowing at the same time that their assumptions will be completely wrong, makes it far more difficult than it already is to come out about something as serious as self-harm—or suicide, for that matter.
Moreover, treating self-harmers as people who are suicidal—when they're not—during recovery can hold them back rather than help them move forward. Such misunderstandings block the path to clear communication, which can play a vital role in the healing process. This is especially true if the person who is self-harming also harbors any stigmas about suicide or suicidal people; in this case, your assumptions might offend or upset the individual, increasing stress and other negative emotions.
Differentiating Between Self-Harm and Suicide Attempts
At the same time, it is possible for self-harm to lead to suicide, either accidentally or due to intentional escalation. So, it's not wrong to worry that one will lead to the other, whether you are the one self-harming or you care for someone who does. But you don't want to go assuming anything, either. So what should you do?
In a word, listen.
If you're worried about someone else, it's okay to say so and to ask about this person's thoughts and feelings. Don't try to force an answer if this person doesn't want to talk, and do your best not to jump to conclusions—but do try and understand your loved one's boundaries, including what you can and can't talk about together. Most importantly, just let this person know that you are here and willing to listen and help. Be sure, too, to educate yourself about both self-harm and suicide so that you'll be better equipped to provide effective recovery support.
If it's you that you're worried about, pay attention to the thoughts and feelings you've been having. Better yet, try writing them down. Keeping a record of your mental and emotional state can allow you—and anyone helping you through this—to more clearly see where you're at and where you're headed. Better still, tell someone. Talk to trusted friends and loved ones, reach out to a support group, and please consider consulting a mental health professional. The more support you have, the easier the road to recovery will be.
If you feel that you may hurt yourself or someone else, call 9-1-1 immediately.

For more information on suicide, see our suicide information, resources, and support section. For additional mental health help, please see our mental health hotline numbers and referral information section.
APA Reference
Kim Berkley (2022, September 8). Don't Assume Self-Harm Is a Suicide Attempt, HealthyPlace. Retrieved on 2023, December 9 from https://www.healthyplace.com/blogs/speakingoutaboutselfinjury/2022/9/dont-assume-self-harm-is-a-suicide-attempt
Author: Kim Berkley