Surviving ED Merit Award Dedicated To Everyone Fighting ED
As a writer and online blogger, I often wonder about the power of the words. I write about eating disorders and recovery, and hope and pray that my words reach out to people and help them feel less alone as they struggle with eating disorders and recovery. I know it is a hard struggle because I have been going through it for four years, and I have tried to convey both the truth of that struggle and the certainty that recovery from eating disorders is attainable through my words here.
I am honored and proud to have received the Web Health Awards Merit Award for "Surviving ED." I dedicate this award to all those out there who are doing the hard work of recovering from their eating disorders. This blog really belongs to them, and they are my inspiration as I sit down each week to write.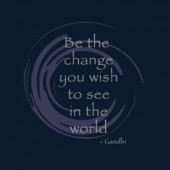 I have always strived to make a difference in the world. But I haven't always felt like I've succeeded. I often felt useless when I was at my sickest with anorexia. I felt that all I was was my illness, and that would be my future.
Then one day last April, my eating disorders psychiatrist said to me, "Angela, you are so much more than your body size." Throughout the past year, those words have stayed with me and often cause me to stop and think about the things I have accomplished in spite of years of battling an eating disorder. I have completed two years of graduate school, and am now preparing to write my thesis in the fall and winter. I have continued writing everything from poetry for myself to in-depth feature articles for my local newspaper.
One the most important things I feel I have done during the past year is writing "Surviving ED" for HealthyPlace. When I started writing this blog, I told myself that I was going to be completely honest. I have written about the struggles of eating disorders and the recovery process, the addictive nature of anorexia nervosa, and how my eating disorder impacts both myself and my relationships with family and friends. I have been open about my past involvement with proanorexia, an idea that promotes anorexia and other eating disorders as a "lifestyle choice." I also have offered hope, and have made sure to stress that full recovery from eating disorders is possible.
I will continue to write about these and other topics related to eating disorders. I would like to thank everyone who reads this blog, and particularly those who have taken the time to leave comments. Please feel free to suggest any topic ideas - I would love to hear what you would like to read about in the area of eating disorders and recovery!
Finally, I hope that "Surviving ED" will continue to help those with eating disorders feel less alone and encourage them on the path of recovery. Each one of you is capable and deserving of full recovery and freedom from eating disorders.
APA Reference
Gambrel, A. (2011, May 20). Surviving ED Merit Award Dedicated To Everyone Fighting ED, HealthyPlace. Retrieved on 2023, September 30 from https://www.healthyplace.com/blogs/survivinged/2011/05/surviving-ed-merit-award-dedicated-to-everyone-fighting-ed
Author: Angela E. Gambrel