Your Eating Disorder Recovery Story: Share It Responsibly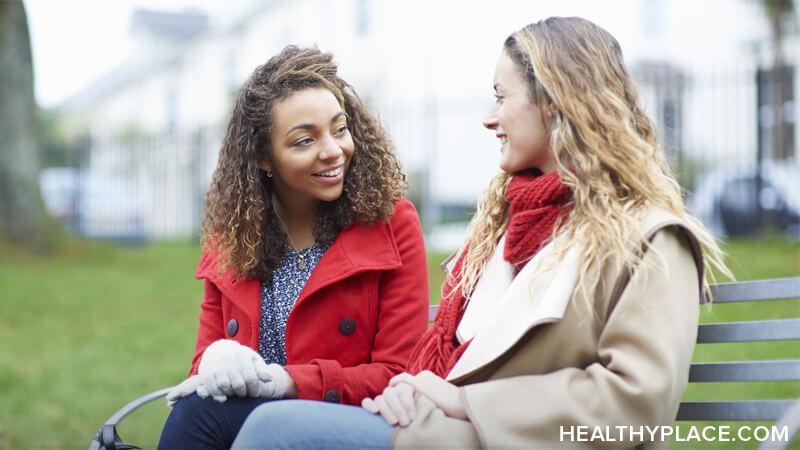 Talking about your eating disorder recovery story and your struggles with an eating disorder can feel intimidating, exposing, or overwhelming. But when you reach a stable, consistent place in eating disorder recovery, that inner nudge to share your eating disorder recovery story is often disarming, healing and empowering—both for yourself and others.
The benefits of inviting people into your own experience are abundant. You practice being honest and vulnerable. You find community with those who understand the depths of the illness. You confront eating disorder stigma, silence, and shame. You remind fellow warriors that hope is real, and life has a purpose. But adding your voice to the conversation is also an immense responsibility. So it's crucial to examine the motives, hone the message, and speak your truth without prescribing a recovery formula or insinuating that you have it all together now.
When Sharing Your Eating Disorder Recovery Story, Remember This
Don't underestimate the positive influence you can have on others by sharing your eating disorder recovery story, by saying the simple but sincere words, "I know your pain. I experienced it myself. But I survived, and there's healing for you too."
The first time I dared to unveil the imperfect human beneath my artificial facade, I anticipated rejection but found connection instead. And that is the power of being vulnerable—when people resonate with your truth, they feel emboldened to voice theirs. So it's urgent to wield that power carefully.
Ground Rules to Consider When Sharing Your Eating Disorder Recovery Story
Prioritize your personal wellbeing. If you want to advocate for eating disorder recovery, then you need to be committed to your own self-care first.
Communicate a hopeful message. While you can't ignore the severity of eating disorders, your focus should be to affirm that recovery is attainable.
Dismantle harmful assumptions. Many people outside the eating disorder mold never get help because they don't appear "sick enough," so emphasize that anyone can suffer—no matter their weight, age, race, sexuality, gender, or social status.
What to Avoid When Sharing Your Story of Eating Disorder Recovery
Being a responsible eating disorder storyteller means protecting the hearts of your listeners. The goal is to use the milestones crossed, insights gained, fears conquered, and mistakes learned from to point others toward healing. It's not to publicize, seek attention, or cast yourself in the savior role. If that is your main agenda, then you risk being ineffectual or even detrimental. Opening up about the eating disorder recovery process is a major undertaking—not a basic rite of passage—so assume the gauntlet with maturity and integrity.
Pitfalls to Avoid When Sharing Your Eating Disorder Recovery Story
Don't use numbers or graphic depictions. Going into the explicit details of your eating disorder (calories, sizes, behaviors, comparison photos, etc.) can glamorize the eating disorder and trigger people who are still active in their unhealthy patterns.
Don't suggest fighting the illness alone. Eating disorder recovery is arduous, so urge people to find a support network for encouragement, motivation, and accountability.
Don't attempt to exceed your limitations. You have knowledge about your unique experience, but keep in mind that you're not a professional, so offer a list of hotlines, therapists, dietitians, treatment centers, and other resources. The HealthyPlace Eating Disorder Community is a useful starting point.
APA Reference
Schurrer, M. (2018, January 10). Your Eating Disorder Recovery Story: Share It Responsibly, HealthyPlace. Retrieved on 2023, December 2 from https://www.healthyplace.com/blogs/survivinged/2018/01/sharing-your-story-of-ed-recovery
Author: Mary-Elizabeth Schurrer