Building Physical Confidence During Tough Times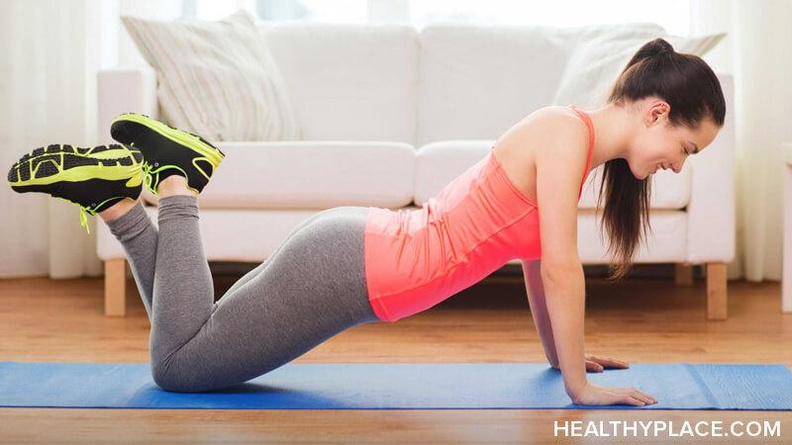 I've discovered that there is a strong correlation between my depression and anxiety and my physical confidence. It's about more than loving the way I look. It's about loving how strong I've become. I've taken steps to increase my physical confidence, which helps me feel so much better when things start to feel rough.
Investing in Exercise Builds Physical Confidence
After two years of dabbling in fitness, I finally committed to taking exercise seriously in the last couple months. I invested in a yoga mat, some dumbbells, ankle weights, and yoga blocks. When I put money into my fitness goals, I was more dedicated to fulfilling them.
Building Physical Confidence with Yoga
Yoga is one of the biggest factors in boosting my confidence lately. I love feeling the deep stretch and not being "allowed" to focus on anything else for a while. It's an even better feeling to see myself being able to do more difficult poses with time. I feel emotionally stronger and much more powerful when I have more control over my body.
Create a Confidence Routine for Physical Health
My morning "confidence routine" begins by changing into workout clothes designated only for working out. This gives me a feeling of obligation to exercise. I drink two cups of coffee every morning while I work, and I roll out my yoga mat around 9 or 10 a.m. I use YouTube videos and a few other online workout guides to guide me through the next 30 to 40 minutes. I look forward to having this time to focus only on myself.
Of course, your confidence routine might look much different than mine. The key is to focus on a routine that makes you feel good about yourself, whether it involves going for a run or spending time with somebody you love.
You Gain Physical Confidence with Goals
Finally, I revel in the feeling of accomplishment every time I achieve something new. I look forward to seeing changes in my body, my strength, and my mindset. I become a better version of myself as I accomplish more difficult goals.
Of course, not everybody builds physical confidence identically. This is a unique concept everybody explores in their own way. After you watch my video about my experience, let me know in the comments how you build confidence.
APA Reference
Horsfall, A. (2017, July 4). Building Physical Confidence During Tough Times, HealthyPlace. Retrieved on 2023, December 3 from https://www.healthyplace.com/blogs/toughtimes/2017/07/building-confidence-during-tough-times
Author: Ashley Horsfall
I love this post! There is such a strong tie between physical confidence and overall confidence. This works especially well with anxiety. Yoga is as much a tool for the mental/emotional as it is the physical. So glad you found a routine that works for you!
This is so important! If you have the strength to keep going you will have the strength to reach your goals and that is so important to your mental health and your well being.
Leave a reply