Battling Daily Depression? How to Thrive at Work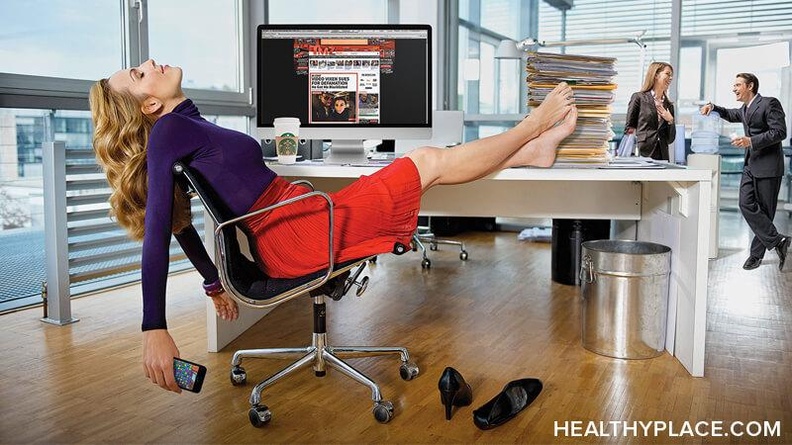 Battling daily depression takes a lot out of you, and going by my last few posts, you may feel that depression is debilitating to such an extent that, generally speaking, someone who has it cannot have a successful career. While it is true that depression does impair one's ability to be productive at work, this does not mean that nothing can be done about it. Like most things in life, there are certain hacks you can use to increase your mental and physical energy levels, improve your stress tolerance, etc. so that you can positively thrive at work even with daily depression. 
Hacks to Deal with Daily Depression at Work
Please note that the following hacks are not just a result of my personal experience, they are also based on conversations with depressed people who have figured out how to succeed at work. Without further ado, let's delve right into them.
1. Nap Like a Boss
This hack is my personal favorite because it almost always works like a charm. Whether you work from home, have a regular office job, or identify as a digital nomad, drowsiness hits everyone post-lunch. For depressed folks, exhaustion also shows up at the same time. It is important to take a short depression nap instead of trying to power through.
Sadly, most companies do not encourage napping, so snoozing at your desk is a bad idea. If only all of us had the privacy of an office or even a cubicle. However, where there is a will, there is a way. All big workplaces have some space that is empty, like a conference room. If you work at a startup, you might have to get more creative as most startups are compact.
If you are afraid of getting caught napping, the best option is to head out of your office and crash in your car or a nearby cafe. Just make sure you get your nap and trust me, you will wake up feeling much more equipped to work for the second half of the day.
If you have a strong cup of coffee before your nap instead of after your nap, your energy levels will go up much faster. 
2. Conserve Your Time
The thing about depression is that it typically reduces your productivity. In order to deal with this, it is important to be mindful of how you are spending your time at work. Schedule your to-do list in such a manner that you get the most important tasks done before you even consider the less important tasks. Prioritizing in this manner will help you focus on your most important goals at a time when your energy levels are the highest in the day.
Even if you are unable to accomplish the rest of your goals, your day will qualify as productive because you took care of the most urgent matters at hand. To feel like you are in charge and in control, it is important to remember that you are doing the best you can. Also, nobody can accomplish everything on their to-do list, so there is nothing odd or wrong about you having some unfinished tasks on your list. In fact, try and add only those items on your list that you can humanly do in a day. A finite to-do list is definitely the way to go for anyone who gets overwhelmed easily.
3. Know Who You Are
How can you thrive if you are not living in alignment with your values, if you are not chasing your goals? It is crucial that you know yourself -- your dreams, strengths, and limitations. While some of us can do this with the help of self-help books and introspection, therapy is a surefire way to figure out who you really are. It will also help you figure out positive coping mechanisms, self-destructive behavior, thinking patterns, and so on.
I have personally learned a lot about myself thanks to therapeutic techniques like cognitive behavioral therapy (CBT), dialectal behavioral therapy (DBT), and rational emotive behavioral therapy (REBT). This knowledge has helped me make lifestyle changes to reduce my depression, changes that I would never have made if I had not been in therapy. In fact, I am on antidepressants now only because my therapist recommended them. They have changed my life for the better and God knows that this was possible only because my therapist recommended them and I trusted her.
Depression is tough to work with, but if you play smart and seek professional help, you can still thrive at work with daily depression. As long as you are satisfied with your productivity, don't let anybody make you feel otherwise. Even on days when you cannot perform well, don't forget to be kind to yourself. 
What are your tips for dealing with daily depression at work? Share your thoughts in the comments.
APA Reference
Shaikh, M. (2020, March 11). Battling Daily Depression? How to Thrive at Work, HealthyPlace. Retrieved on 2023, December 5 from https://www.healthyplace.com/blogs/workandbipolarordepression/2020/3/battling-daily-depression-how-to-thrive-at-work
Author: Mahevash Shaikh
Would be lucky to get some work done before I aim to thrive! Thanks for your tips.
It's hard to focus on work with all that's going on in the world, so please don't be hard on yourself. Try to do your best and leave it at that. take care, Vanessa.
Leave a reply