What Is the 'Your Mental Health' Blog About?
Welcome to the Your Mental Health blog. I'm Natasha Tracy, Blog Manager at HealthyPlace.
The Your Mental Health Blog addresses concerns that are important to those dealing with mental health disorders. Our writers will be covering topics ranging from diagnosis and treatment issues to how to deal with mental health stigma and maintaining balance in your life. Whether you are living with a mental health condition or you are a spouse, parent, or loved one of someone who does, we'll have mental health information that will be of interest to you.
The 'Your Mental Health' Blog Is a Different Kind of Blog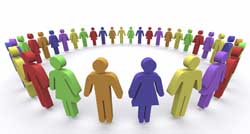 Two things make the Your Mental Health Blog different from other HealthyPlace blogs:
Each post will be written by a guest author.
Instead of covering one specific mental health disorder, the blog will be open to discuss any and all aspects of mental health.
This should make for a very interesting and lively blog. We're hoping you'll fill in the lively part by sharing your knowledge and experiences in the comments section. And if you have any topic suggestions, feel free to share them by writing us at: info AT healthyplace.com. In the subject line put: Your Mental Health Blog Topic Idea
I'd Like to Write a Guest Post for the Blog
We'd love to have you do that. The author may be any type of mental health treatment professional, researcher, a person living with a mental health condition, or a parent, spouse or loved one, or anyone else who has mental health information or a perspective to share with our readers. We do have some guidelines:
Each article must be original works of authorship and cannot appear anywhere else on the Internet. Once the article is submitted to HealthyPlace and appears on the HealthyPlace.com website, HealthyPlace.com, Inc. will own the copyright to the article.
In-article links are not allowed. If a medical source is cited, a link to that source will be included at the bottom of the article.
The article must be well-written and range from 400-600 words.
If you want to do a video blog, we need at least a 3-4 paragraph intro to the video. The video should be no longer than 3:30, with good lighting and clear sound.
Each submission must be accompanied by the person's real name, a 2-4 sentence description of who the author is (please make it relevant to the article) and a link to the author's website, blog, and/or social media.
Please submit your topic idea via email to: info AT healthyplace.com In the subject, put: Your Mental Health Blog Guest Author. Provide a 3-4 sentence topic summary and let us know who you are and why you want to write this post.
That's it. The Your Mental Health Blog launches next week. Sign up for the HealthyPlace Mental Health Newsletter or join us on Twitter, Facebook or Pinterest to keep up with what's happening on the blog and the site.
APA Reference
Tracy, N. (2013, January 3). What Is the 'Your Mental Health' Blog About?, HealthyPlace. Retrieved on 2023, December 7 from https://www.healthyplace.com/blogs/yourmentalhealth/2013/01/about-your-mental-health-blog
Author: Natasha Tracy
For the comment that homeless shelters must allow emotional support animals, can you provide any legal citation for that information, i.e., is that in the HUD statute or regulations? or case law? Any help you can give would be appreciated.
I have a question... Why does the blog article solely belong to your site?
What if everyone dont know about your site. I feel. The blog posts belong to the author and should be free to post anywhere... That is very restrictive.
Why are those rules applied?
Hi Sharn,
I'm sorry, but these are our policies and are typical of professional sites. People who submit to this blog are aware of them and agree to follow them. Certainly, if these policies don't work for you, then submitting an article to us might not be the right fit.
Natasha Tracy
Blog Manager
Great idea. Looking forward to reading the submissions.
I have lived with bipolar2, agorapjobia, anxiety disorders for 8 years now, I used to have a full life as a nurse and active member of my community. Today sees me applauding the fact I got out of bed. And my social life consists of Dr appts. And the grocery store.each day brings the challenge of what mindset I will be in. I've done therapy, pschiatrists, and hospitalizations. I've come to realize the meof today, is a more fragile, sensitive, and isolated. But I'm still plugging away, doing the best I can, to beat the beast within. To all of you who "get it", thank-you, to those of you willing to help make the lives of someone you love better, bless you, and to the medical professionals who have chosen this area of health care, please remember, you are treating people, not the bipolar in room 3. Thanks all, try and have a good day.
My wife Pauline and I live everyday dealing with her schizoaffective disorder.
We discuss openly and honestly our journey at www.queenslandmentalhealth.com
One of the topics we have discussed at length which has generated a lot of heated debate is ECT. Pauline as the person who has the ECT treatment swears by it as it is the only thing that can break her psychotic episodes.
I'm off to write an article to submit. Best wishes to everyone here. I hope you all have an awesome day!
Ian
For years I lived in a "prison with no bars". There was a time, during the most debilitating stages of agoraphobia, that I was so incapacitated with terror that I was unable to come out of my bedroom. Just the act of trying to move beyond my bedroom door was enough for me to be overcome with horrific symptoms of vertigo, unreality and absolute panic. Once I found a psychiatrist who specialized in agoraphobia, it made the world of difference. I am finally free of this horrendous illness and I have recently published my story, entitled "Beyond the Dream"(under the pen name of Irene Snow), which is available in all Internet book stores. It covers more than just my battle with agoraphobia and its subsequent treatment. It also deals with the early psychological factors from childhood onward that I believe play their own role as catalysts in future mental illness. My story also involves the death of my little girl, which triggered an eventual descent into psychosis; where hope and love became the greatest catalysts to eventually lead me to a true healing. I believe my story is one of hope, and I would like to share this hope with others who are similarly immersed in the living hell of mental illness. It is important you do NOT lose hope. There is help out there! Never, never, give up!
Love and best wishes,
Irene Snow
I became an artist and poet a couple of years before being diagnosed Bipolar in 1973 at 17. My first book is finally coming out thanks to a professor/editor. It is my art with poetry and some prose. I have been thru hell and back - many times. I feel creativity saved my life.
The book is titled "The Diagnosis Should Have Been: ARTIST". I would like to share parts of it here or maybe even start a blog. I want to share my Hope and Inspiration with others. I am donating all proceeds to mental health causes.
I live with mental illness for a long time. I was diagnosis in '10 with mood disorder and depressive disorder. I have spread the word for people that have mental health disorders.
Hi, I like the sound of this and will put something together, I just hope people will be interested in reading it! It's always a bit nerve wracking anticipating comments ;)
My contribution (if accepted) will be based on Disordered Eating - I maintain a website here www.disorderedeatingsupport.com
I look forward to seeing this progress :)
I really like how it will integrate experiences with various mental disorders from different perspectives. I have treatment-resistant Bipolar Disorder w/ Ultra Rapid Cycling & GAD. I published my poetry anthology "Real Delusions" in 2011, and created 2 artistic blogs/Twitter/Facebook Page under this pseudonym in 2012. I'm looking forward to submitting an article under my real name for this HealthyPlace blog! It's a great opportunity.
I am curious how strict your rule about using your real name is. I blog using my (real) first name only, and I have discussed my reasons for this extensively in my blog. Essentially, the stigma associated with the things that I discuss would have a negative impact on my professional life if people in my field found them when googling my name. This is a problem in itself but not one that I am willing to risk my career to illustrate. I strongly suggest that an alternative to guideline #4 might be developed, as I doubt that I am the only one in this position.
I discovered an aunt I never knew existed who lived most of her life in a mental institution. My mother and aunt wouldn't talk about it and I could find out very little information on my own so I wrote a novel "A Family Institution" about it. It deals with the way the mentally ill were treated in the 1940s and 1950s. The novel has a comic touch because frankly it's hard to bear without that. It's on Amazon and I'd be interested to have your readers read it and give me their reactions.
I look forward to this blog. My spouse has anxiety and depression and I recently started a blog about my perspective. (http://caringforanxiety.wordpress.com)
I would love to guest post, but I wouldn't want to provide my full real name or my picture. I don't feel comfortable with that yet. If those guidelines ever change, I would definitely love to participate.
I write a Sunday Morning Column for News USA. You can find some of my work at http://newscornerusa.com/shunter.html
My son has the diagnosis of paranoia/delusional schizophrenia. Our family has been coping with this for about 7 years. He is now in the State Hospital. I work for the National Alliance for the Mentally Ill as a Mentor.
Studying and writing about mental illness/mental healthcare is my passion since it hits so close to home for me.
Hope you get some good talking going. When I have some quiet time I might send one in though let's see what direction this takes. Keeping it into short blogs will help many read more. The long stories just lose me any more. I've read to many. I agree that it would be great to have it turn into a goal setting and achieving blog spot. That is what many people need who have had so many years of therapy. Good luck with this
I like that the work will be original to this blog. I love informative material especially if it is new to me.
I think that the goals are to be a true measure of lifestyle, the more we had noble goals and have achieved some then we are happy about these achievements, and vice verse.
Through my experience in the field of mental health I think if we want to enjoy a healthy psychological and mental good must be our goals in life and strive to achieve these goals.
Greetings
Leave a reply