Mental Health Therapy Myths and Misconceptions
Misconceptions and myths about mental health therapy abound and sadly keep many people from getting the mental health help they want and need. For some of these mental health therapy myths and the reasons behind them, read ahead.
Stigma Behind Mental Health Therapy Myths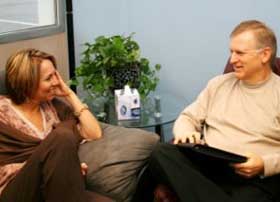 I have worked in community mental health for several years and have been a therapist for some time now. I have worked with a variety of clients with an array of presenting problems and circumstances. It has been my experience that people come into my office with some myths and misconceptions about mental health therapy and mental health services in general. Unfortunately, these misguided beliefs seem to stem from mental health stigma that exists and the humbling task of asking for help.
Biggest Mental Health Therapy Myths
You have to be crazy to see a therapist
One of the biggest misconceptions is that if a person seeks the help of any mental health professional, be it a counselor, psychologist, therapist or psychiatrist, then he or she is crazy, nuts, psycho, or insert any other commonly used disparaging label. Unfortunately, these words used to describe mental illness, are said out of fear and a lack of understanding. When I ask people to define crazy or nuts, they usually can't. Sometimes they give me an an example of someone in their life, an acquaintance or maybe even a relative, who likely suffered or is suffering with a mental illness and has been misunderstood by those around him or her.
Not crazy? Okay, but there's something wrong with you
This leads me to another misconception that also develops out of stigma and that is the belief that something is wrong with you if you ask for help. Or that it is a sign of weakness. Quite the contrary! Asking for help is a sign of strength, maturity, and determination, among many other things. It says to me that you are dissatisfied with how things are going and you're ready to do something about it. Not everyone is willing to admit that there is room for improvement in their lives. (Read: How Do You Know If You Need Therapy?)
Crying in therapy is okay
Throughout the therapy process, I also want you to know that it is absolutely okay to cry. Please don't apologize for doing so. And yes, you can have a Kleenex. That's why they are there. Oh and by the way, everybody's dreams are weird and no, I don't know what they mean.
It is my hope that through writing this article that I have dispelled some of these mental health myths that might stand in the way of people (maybe you) seeking the help they so desperately need and deserve.
This article was written by:

Amanda Campbell, MS, LCPC is a rural community mental health therapist in Illinois. She has been a therapist for 6 years with a total of 10 years experience in the mental health field. Ms. Campbell has an M.S. in General Psychology from DePaul (2004) and an M.S. in Mental Health Counseling from Capella University (2010). She is married and has two young boys.

To be a guest author on the Your Mental Health Blog, go here.
APA Reference
Author, G. (2013, March 19). Mental Health Therapy Myths and Misconceptions, HealthyPlace. Retrieved on 2023, December 4 from https://www.healthyplace.com/blogs/yourmentalhealth/2013/03/mental-health-therapy-myths-and-misconceptions
Author: Guest Author
Thank you for posting this. It's so hard to break through the stigma and get help that every word and post counts.
I would like to find a good therapist in my area to talk to.The thing is I have no insurance.You say that and most don't want to see you.What do we do.We are already lost and lonely. We need help too. Why can't people see this? I think that's the reason we don't seek the help we need because we don't know where to seek the resources we need.
I am so depressed and anxious mostly because of extreme debt and a relationship breakup. My doctor has me on 1-1/2 of Deplin and Celexa and 2 Xanax every 4 hours - up to 10 a day. I am not getting any better at this time. Any advice would be appreciated. Thanks - I might add this is the third time I have suffered with depression. I am 73 yrs old and have been divorced since 1984.
Leave a reply