Do You Suffer From Depression and Anxiety Disorder?
A diagnosis of generalized anxiety disorder (GAD) or having panic attacks doesn't automatically mean there will be a co-occurring diagnosis of depression. However, many people with an anxiety diagnosis do suffer from clinical depression, even if only from time-to-time. In my case, I have both bipolar and anxiety disorders. Like many others, I have found that serious anxiety can lead to depression.
Depression, by itself, is nothing to trifle with. Loss of energy, willpower, and even suicidal thoughts are just some of the burdens of living with clinical depression. The chronic worrying or paranoia that comes from high anxiety is emotionally drowning. A typical bout of anxiety is more an all-consuming dwelling on the worst case scenario. Aside from the negative thoughts, your body can experience rapid heartbeat, sweating, dizziness, and even nausea and vomiting. It shouldn't be a surprise to anyone that going through something like that, or even simply being afraid of going through something like that, can lead to depression.
Differences Between Depression and Anxiety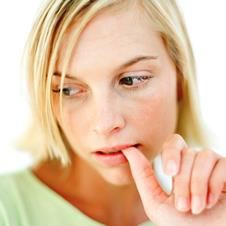 Depression and anxiety frequently occur together in a person, but there are significant differences between the two conditions. Anxiety tends to make a person feel worried, as though something or someone is coming to hurt them. It can elicit the "fight or flight" reaction in the body or make a person feel like everyone hates him or her. It leaves a person feeling as though he or she has done something wrong or that there is some corrective action he or she needs to take for defense.
Depression, on the other hand, is a sluggish, lonely, and heavy feeling. The physical sensations are typically feeling tired, feeling abandoned, and having great difficulty in finding motivation to do anything. The desire to sleep and shut out the world takes over. It is often described as a dark place devoid of hope. (What Does Depression Feel Like?)
Anxiety and Depression Can Be Treated Together
If you are unlucky enough to suffer from both depression and anxiety, the good news is that they can be treated together much of the time. Your treatment plan will be geared toward helping you to manage both illnesses with medication, psychotherapy, or both. Other, non-medical, steps can be taken as well. One might consider mindfulness or other relaxation techniques, support groups, or an exercise regimen.
Having both anxiety and depression is a challenge, but it is not an insurmountable one. Working hard and taking small steps each day can lead to a lifetime of wellness and happiness.
You can find Gabe on Facebook, Twitter, Google+, LinkedIn, and his website.
APA Reference
Howard, G. (2014, October 29). Do You Suffer From Depression and Anxiety Disorder?, HealthyPlace. Retrieved on 2023, December 11 from https://www.healthyplace.com/blogs/anxiety-schmanxiety/2014/10/do-you-suffer-from-depression-and-anxiety-disorder
Author: Gabe Howard
I struggle w bipolar type 2 have been diagnosed for 25 yrs major clinical depression. 5 yrs ago . Came diagnosis of bipolar 2. Studied DBT and find I can more readily control the anxiety from completely wiping me out, with mindfulness and other skills sometimes with meds too, but for me I live in total fear of the depression. DBT has taught me to identify the warning symptoms I'm spiraling downward, but it takes so much work and dedication to stop let alone recover from a depressive episode. It wipes me out for weeks at a time. I recently was prescribed another mood stabilizer with less side effects that seems to be working. I have to say I do not find all anxiety attacks lead to a depressive scenario. Thanks everyone for sharing your experiences, I am not alone
I've lived my life with ADHD, Gen. anxiety disorder, major depression,(I think Dysthymic) when anxiety and depression collide it's debilitating, however I've learned to live with only an anti- depressant for psych meds partly due to 20 yr battle with methamphetamine addiction. My children have all got mental health diagnosis's but no CD addictions, thank God! It's tough I've gone through nursing school with only an anti depressant. What bothers me the most is that we talk to a psychiatrist for 15-20 min. And we come off as totally wonderful. Ppl close know we've got issues. Lol we talk about our mental health openly. I wish more ppl understood. I'm dying soon of COPD and all I really want is to live one full month happy. But of course this will not happen, it's been with me longer than I can remember! I've lived with it though! I've fulfilled goals and dreams!
you dont know what a true severe depression and anxiety feels like. too say we are unlucky is ignornat
I am glad that you think these issues are not insurmountable.
Leave a reply