Schizoaffective Disorder and Mental Health Advocacy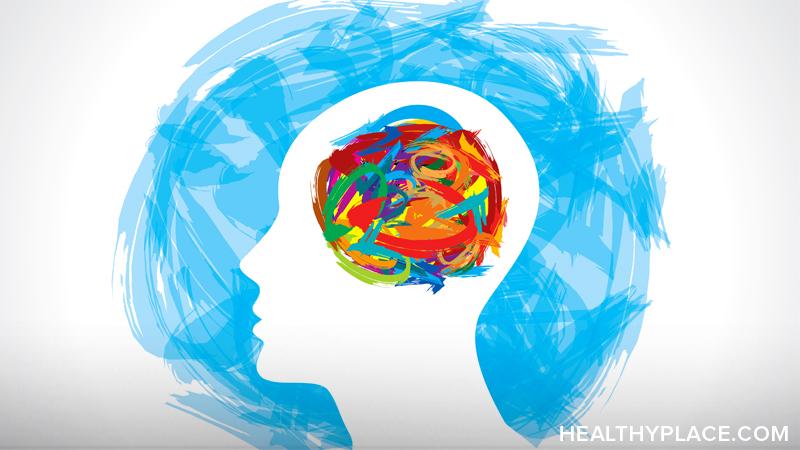 I didn't set out to become a mental health advocate until my late teens and early 20s when I was diagnosed with schizophrenia and then schizoaffective disorder, bipolar type. I would like to share my advocacy journey with you.
Having Schizoaffective Disorder and Being a Mental Health Advocate
At first, it was as simple as being honest about my diagnosis of schizoaffective disorder. I was majoring in photography to earn a fine arts degree, and I made images about my schizoaffective disorder. I remember one photograph that was simply a bottle with the name of one of my medications.
Later, I met my husband, Tom, and we started going on the National Alliance on Mental Illness (NAMI) Walk every year. We've gone every year since 2007 except for 2018 when we were in Door County in Wisconsin celebrating our 10th wedding anniversary when the walk occurred. That year, I raised money for NAMI on Facebook. The walk has always been a wonderful, magical experience, and we've always been blessed with good weather, even this year when the group walk became an individual jaunt for each small participant group.
My mental health advocacy for schizoaffective disorder and schizophrenia deepened greatly when I started writing for this blog. I want to put a human face on schizoaffective disorder and show people that those with these mental illnesses are not monsters or incapacitated. We have jobs, families--and feelings. I want to bust the stigma.
I also want to reach out to others with schizophrenia and schizoaffective disorder. My favorite part is when someone who reads my blog comments that my words have made them feel less alone.
Being a Mental Health Advocate Makes Me Feel Less Alone in My Schizoaffective Disorder
Really, reaching out to people with schizophrenia and schizoaffective disorder and making them feel less alone requires that I share things about myself that I'd rather not share--that I'm afraid to wash my hair, for instance. I still do it; I'm just afraid to. Another thing I've shared is that I'm really bad at cleaning my apartment. When people comment that they have the same problems and that they feel less alone knowing others struggle with the same challenge, it makes me feel less alone, too.
Of course, going on the NAMI Walk with my husband also makes me feel less alone because I'm in a big crowd of people who are walking either for themselves or to support someone they love who has a mental illness. Even this year, I felt a kinship with all the people walking elsewhere on the same beautiful fall afternoon. I can't go to protests because they're so loud and rowdy, and they trigger my schizoaffective anxiety, but I can go on the NAMI Walk because the crowd there is pretty chill, and I love and look forward to all of us walking together again next year.
So, between doing the NAMI Walk and writing for this blog, I think I can say I'm a mental health advocate. The NAMI Walk and writing for this blog especially give me a sense of meaning and purpose in my life. And responding to your many comments does, too. I am grateful that you are there with me.
APA Reference
Caudy, E. (2020, December 24). Schizoaffective Disorder and Mental Health Advocacy, HealthyPlace. Retrieved on 2023, December 6 from https://www.healthyplace.com/blogs/creativeschizophrenia/2020/12/schizoaffective-disorder-and-mental-health-advocacy
Author: Elizabeth Caudy
Im glad you're here with us too Elizabeth! I love you so much!!
Dear John, Thanks so much for your comment! I love you too! Happy New Year! Love, Elizabeth
Hi this is all new to me. What I do know for sure today is this site you blog for about your own very personal story of dealing with a mental health issue is where I want to also post my very own person stories about my same battle. I have a known mental health issue, I have had it all my life. I also Know I passed it on to my very own daughters. I also know for a fact when I am done with this brain it will go to Harvard. Due to the fact that this in on the World Wide Wed, to be very honest, put me in Fear. I do want to be in Love Sweet Love today and everyday. I know for a fact that helps me feel good about me. One blogger to another how do I safely follow you and your blog.
Leave a reply