Certain Life Experiences Can Cause Anxiety Disorders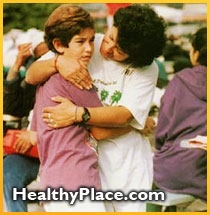 There are many triggers that can cause anxiety and panic attacks. Some of the triggers include:
Grief - Death in the family, death of a parent, death of a close friend, spouse

Financial difficulties - loss of a job, overwhelming debt, problems at work, etc.

Major trauma - such as:

being assaulted or robbed

being in an automobile accident

being involved in a major natural catastrophe, such as an earthquake, flood, fire and tornado

witnessing a violent crime

a life-threatening experience

childhood trauma/abuse

Divorce or leaving an abusive relationship

Major illness
We can also have a build-up of stress, that can take weeks, months, or even years to reach the boiling point. When stress reaches this level, it can cause anxiety to progress into a significant problem, resulting in a disruption in a person's life.
Not all anxiety triggers come from "bad" events. There can also be "good things" happening that trigger anxiety; for instance, planning a wedding, having a baby or starting a new relationship.
There are also conditions that mimic anxiety disorders, such as hypothyroidism, hypoglycemia and mitral valve prolapse syndrome. That's one of the reasons why it's important to have a professional evaluation.
next: Cognitive-Behavioral Therapy For Anxiety and Panic
~ all articles on anxiety self-help
~ anxiety-panic library articles
~ all anxiety disorders articles
APA Reference
Staff, H. (2007, February 19). Certain Life Experiences Can Cause Anxiety Disorders, HealthyPlace. Retrieved on 2023, December 5 from https://www.healthyplace.com/anxiety-panic/articles/certain-life-experiences-can-cause-anxiety-disorders
Last Updated: July 1, 2016