Denying Bipolar Disorder
We all take part in the game of denial. Humans need denial to exist. We can't think about our inevitable death, the fact that we are aging, or that our marriage may end in divorce and expect to care about jobs, mortgage payments and the obvious importance of Jimmy Choos. We know unpleasant possibilities and inevitabilities are true, but on a daily basis we deny them. We need to. Denial produces a workable life.
What gets under my skin though, is the fact people expect me to deny my bipolar disorder, my experiences with it, and its effects – mostly just to make them feel better.
Bipolar Diagnosis and Denial
When one receives the news either at a doctor's office, behind a computer screen, or in a hospital, that they have been diagnosed with bipolar disorder, denial is inevitable. Learning that you have a debilitating lifetime illness is a nasty pill to swallow and a period of grieving, including denial, is normal and expected. We need time to adjust to this huge piece of new information.
This denial has to go away; however, for us to get better. We need to able to admit that we have bipolar disorder in order to seek treatment. We can't deny that bipolar disorder exists and expect to get any better.
Bipolar Symptoms and Denial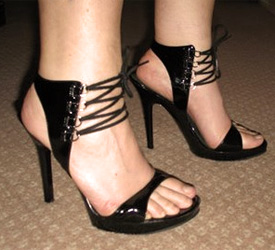 I can understand the desire to cover up the fact that in your last manic episode, you spent $5,000 on stilettos because each design seemed more crucial than the last. I can understand you don't want to talk about missing your mortgage payment because you were too depressed to get off the couch and take care of it. I understand wanting to deny forgetting your friend's birthday because depression had you sleeping right through it. I can understand not wanting to admit to all the bipolar symptoms you are having – thinking about them is painful.
But as above, if you deny your bipolar symptoms it's very unlikely that you can be treated for them. If no one knows the truth of what you're experiencing then they can't help you. Denial of bipolar symptoms doesn't protect you from them; it makes you more vulnerable to them in the future.
Denying Bipolar Because Others Want You To
I've written here about being bipolar and damaged, and about being bipolar and alone. Both times people were quick to tell me that I was thinking about things in all the wrong ways. People told me I should reframe the issues, I shouldn't think so negatively, and that if I think of myself as a victim, then I will always be one.
Well kids, I am damaged, specifically my brain is, I am a victim of bipolar, just like someone is a victim of cancer, and I am most certainly alone, and lonely for that matter. Other people's desire for my denial of these simple facts shows how frightened they are that these facts might be true about them too.
Some people also want me to deny what bipolar looks, smells, sounds, and tastes like. They want me to stop telling people what my experience of bipolar is without first putting it through a therapy-rose-colored-Pollyanna filter. And while I appreciate a person's desire for their own denial I don't appreciate them being so insistent that I join in.
As a writer, I have the ability to stand next to a demon, watch it, record it, and illustrate it, without being gobbled up by it completely. I can have bipolar experiences and relate the raw truth of those experiences. I know that an inky, black, darkness lives right beside me. I see no reason to deny that.
If you choose denial, that's your business.
I Don't Believe in Bipolar Denial
But I will not deny my bipolar disorder, my experiences and what goes on in my sick brain just to make others feel better. Many bipolars want to hear a deep, genuine, authentic, unsanitized version of this disease because it makes them feel less alone; because, they realize that they aren't the only ones going through this horror; because, they don't have the words to express what's happening to them; because, we all need people in our lives to know our genuine selves. And sometimes it takes reading about someone else's experience to know how to make that connection; there is something to point to when asked how you feel, and you can point at the screen and say – that, I feel like that.
So no, I won't be a party to bipolar denial. I don't believe that denying the pain and suffering of reality is helpful. I believe that very scary experiences should be held lightly in your hands so that you can truly see, touch and feel it, so that you can understand and accept it. And hopefully move forward.
You can find Natasha Tracy on Facebook or GooglePlus or @Natasha_Tracy on Twitter or at the Bipolar Burble, her blog.
APA Reference
Tracy, N. (2010, July 5). Denying Bipolar Disorder, HealthyPlace. Retrieved on 2023, September 26 from https://www.healthyplace.com/blogs/breakingbipolar/2010/07/bipolar-and-denial
Author: Natasha Tracy
Very Very Very Well said Natasha
****To Everyone who feels this is an example of "being negative" *****
Guess what ??? Its called "being realistic". I am still the same happy-go-lucky-woman that I always have been ... but I MUST be aware of my bipolar illness 24/7. Otherwise I cannot "manage" it efficiently...
NOTICE: keyword is "Manage" Medication + Management = Optimal Mental Health & Wellness.
I express myself through poetry ... yes it is dark & in-your-face ... its also TRUE and very REAL.
Tavia
Leave a reply