Celebrating the Small Wins in Bipolar Depression
I've learned, over a lot of time spent depressed, that you have to celebrate the small wins in bipolar depression. It's absolutely crucial. You absolutely must recognize the little things if you have even half a hope of feeling better. You have to congratulate yourself for getting up, getting dressed, taking a shower and doing other impossible tasks when you have bipolar depression. Celebrating the small wins in bipolar depression sustains you while the big wins are on their way.
The Small Wins of Bipolar Depression
The other day I went grocery shopping, took out my garbage and recycling, made a healthy dinner and did a paint touch-up in the living room. And holy moly was I proud of myself. I've been facing a nasty post-hypomania bipolar depression lately and having a day like that, where I could actually cross things off my list, where I could actually say I was improving my life a little, is amazing. It's a small win of bipolar depression and I wasn't about to let it pass by without celebrating.
How to Celebrate Small Bipolar Depression Wins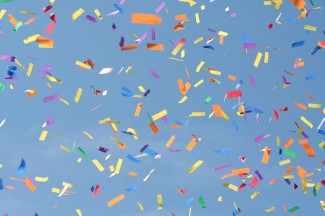 No, I didn't buy or make a cake and no, I didn't alert the media; but I did smile and grant myself a gentle thought of congratulations. While no one else knew what a great day it was for me, I did. And I silently celebrated. And I knew that having a day like that could mean that I'll have more days like that to come. A day like that could just be a single good day or it may be a turning point of something bigger. Either way, I'll quite thankfully take it.
Why Celebrate the Small Wins in Bipolar Depression?
Last year I won a big, fancy award called the Erasing the Stigma Leadership Award. It was great. The organization that awarded me, the fabulous Didi Hirsch, flew me and a friend out to Beverly Hills and kind of treated me like royalty for a few days. Celebration at that time was natural.
But how many times can one really expect that to happen? How many times can one expect to get engaged, or have a birthday party that rocks, or have a child, or do one of the many other things that people naturally celebrate in life? Not that often.
And this is why celebrating the little wins in bipolar depression matters. It matters because those are things that happen daily, weekly or even monthly, that denote tiny change or improvement – even if it just lasts for a day. These little celebrations are, truly, what give our lives daily meaning. And let's not forget what a monumental effort it took to make those strides. Showering is a big deal for some people. Don't take away that win just because "other people" would consider it inconsequential. Other people don't have a brain disease. You do.
Do I get to put the fact that I took my garbage out on my resume like I do the fancy award? No, of course not, but I would argue those little celebrations matter just as much. Those tiny goodnesses will sustain me until a greater goodness (like feeling less depressed) happens. Not only that, but those tiny celebrations will recognize all the work I have put in to get that far. And if what you're celebrating is that you're still alive for one more day, that's okay. Sometimes that is the biggest achievement of all.
You can find Natasha Tracy on Facebook or Google+ or @Natasha_Tracy on Twitter or at Bipolar Burble, her blog.
Image provided by ADoseofShipBoy.
APA Reference
Tracy, N. (2015, June 24). Celebrating the Small Wins in Bipolar Depression, HealthyPlace. Retrieved on 2023, October 4 from https://www.healthyplace.com/blogs/breakingbipolar/2015/06/celebrating-the-small-wins-in-bipolar-depression
Author: Natasha Tracy
I have been practically bedridden by my worst episode of depression and anxiety in 20 years. This morning I got dressed, made breakfast for my kids and washed a sink full of dishes. I needed to read this today. Thank you. (Although, it's still proving impossible not to beat myself up for all of the things I haven't done.)
Very nice article. We should try to find happiness from small things or small victory.
Thanks, I needed that. Just got some serious housework done AND prepared for the scary meeting with the employment consultant. Absolutely HUGE win!
THANK YOU SO MUCH!!! I AM CRYING WITH JOY BECAUSE FINALLY YOU HAVE SAID WHAT I NEEDED TO HEAR...ABOUT SHOWERING!! ONLY MY GROWN KIDS [ I THINK] AND MY SWEET HUSBAND KNOW THAT SOMETIMES I GO FOR, I'M VERY ASHAMED TO SAY, UP TO 2 WEEKS WITHOUT A SHOWER. IT TAKES EVERYTHING OUT OF ME, BECAUSE I'M OBESE AND HAVE ASTHMA, THAT I AM OUT OF BREATH AND HAVE TO SIT AND REST THEN GET DRESSED. I DO FEEL A LOT BETTER, I JUST CAN'T DO IT EVERY DAY!!! MY DEVOTED HUSBAND DOES MOST OF THE HOUSEWORK, AND WORKS 12 HOUR SWING SHIFTS!! I AM ON DISABILITY, 56 YRS OLD, AND HAVE BI-POLAR 2 WITH ANXIETY DISORDER. PLEASE TELL ME WHAT I CAN DO TO BE A BETTER PERSON??? SHAME AND GUILT SURE DOESN'T HELP!! THANKS AGAIN FOR LETTING MR KNOW I'M NOT ALONE!!!!!!!!!!
This is similar to parenting children with Learning Differences. Typically, people say "Pick your battles." I've used this statement time and again to explain why my children were not chastised for some behaviors, but they were for others. However, it recently occurred to me that really what my husband and I did was "Pick OUR Wins". -Thanks for the great read!
http://learningdifferencesworld.com/blog/pick-your-wins
Leave a reply