Suicide Prevention: Talking to Children About Suicide
Today, I'm discussing the importance of talking to your children about suicide as a preventative tool.
As a therapist, I know that children are hearing the word "suicide" at younger and younger ages. They hear it from peers, the media, and popular television shows but they don't fully understand the long-term ramifications, and that can be frightening.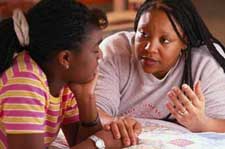 I want to encourage you to give your child or children the opportunity to understand what suicide is and give yourself the peace of mind of having this conversation. Fill in any knowledge gaps they have on the topic. It's also important to keep reiterating the permanence and long-term ramifications of suicide. Kids are talking about this. Let's make sure they really understand what suicide is and keep them safe. Let them know that help is available if they are feeling very sad or lonely.
How to Discuss "Suicide" With Your Child
The ideas in the video provide parents with tips to discuss suicide, making sure both the parent and child are comfortable in the process.

Take Good Care.
Emily is the author of Express Yourself: A Teen Girls Guide to Speaking Up and Being Who You Are.You can visit Emily's Guidance Girl website. You can also find her on Facebook, Google+ and Twitter.
APA Reference
Roberts, E. (2012, September 12). Suicide Prevention: Talking to Children About Suicide, HealthyPlace. Retrieved on 2023, December 11 from https://www.healthyplace.com/blogs/buildingselfesteem/2012/09/suicide-prevention-talking-to-children-about-suicide
Author: Emily Roberts MA, LPC
Hi Emily,
Yes you are right,when the child feels at ease and can talk about that niche, he/she normally accept and will be willing to listen with that kind of cases.
Thanks,
Boro
Thanks Emily for making this short video and offering such important tips on how parents or anyone working with children can have an open and informative discussion on suicide. It's so important to educate them correctly instead of what they potentially hear from their friends/peers which isn't always correct.
I'm going to be sharing your post and video on my FB page "Suicide Shatters" as this is a question I get asked quite frequently.
The other big question I get is how old should the children be before having these types of conversations. There are sadly children far younger than age 10 taking their own lives, some reporting as young as age 3 that they had thoughts and considered suicide. So in my opinion, it is never too early to have an age appropriate conversation. Our children hear and learn so much more than parents are aware of, it's critical to get the correct information out to them.
Hi Barb,
So glad you liked it and was helpful! Im excited to see your FB page and check it out. You are right, the conversation should not be avoided and at an early age. When kids see that they can talk to you about difficult topics, they are more likely to come to you with their concerns- Invaluable!
Take Good Care,
Emily
Yes the mental pressure is so high now a days that even younger generation is attempting or say committing suicides. It is good that you talk with them about this but this is actually your responsibility to make sure that you or anyone is not creating any type of pressure on your children...
Hi Jennifer,
Thank you for your comment. When it comes to this topic with anyone under 18 we talk to parents. It is the parents responsibiltiy to keep their child safe, and ours to report if we think they are in danger (as mental health professionals). We can discuss what they think sucidie is, clairify and educate and then we also encourage them to talk with parents. We also notify parents that this is a topic that their kids are aware of and how to keep them safe. The first line of defense is at home, making sure we know what kids are exposed to and having the lines of commuication and trust open with mom and dad. This is a topic of conversation, that we do not hold back on confidentiality.
Take Good Care, Emily
Leave a reply