Achieve Your Goals This Year With Some TLC
Everyone's talking about New Year resolutions, but did you know that it takes some real self-love to get yourself to change, grow, and achieve any goal, no matter what time of year? Without the underlying ground work, including confidence, taking care of yourself and TLC (tender loving care), most goals fall to the wayside and self- loathing ensues.
You Can't Achieve Your Goals Without Self-Love

A long time ago, I had a client who was a full-time mom and a caretaker to her elderly parents. The idea of self-love and self-compassion was a huge cause for defensiveness. She was unwilling to put in effort to make herself feel better. Rather, she wanted to help everyone around her. She told me that it would be "selfish" for her to take care of herself when other people rely on her and need her.
What wound up happening is that she became exhausted from giving too much to others and not enough to herself. She was more unstable, irritable with her family, unpleasant to be around, and unable to get through the day without tears; she was burnt out. Her husband had no choice but to admit her to treatment. After months of therapy and learning assertiveness skills, how to allocate tasks or hire help, among other skills, she began to live a more balanced life.
Although this is an extreme example, as you can imagine we all burn out at times and ignore all the signs that our body and mind are telling us to slow down and show ourselves some self-love. I think this concept is a much longer discussion than one blog post, but the root of keeping our resolutions, our goals and relationships intact, is to make sure we are keeping ourselves as happy and self-aware as possible. The most powerful way to a happy life, meeting goals, and sticking to those resolutions comes from within.
Try Achieving Your Goals This Year
Recognizing what you deserve and what you want to change (for you) is the first step. Even if this woman wanted more help around house, she had to recognize she deserved it, or at least needed it. Ask yourself what do you deserve from life, others, from yourself. I deserve to be happy, respected, proud, loved, motivated. In order to expect others to do this for me, I must first do it for myself.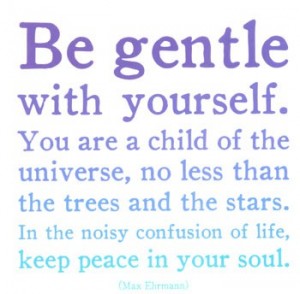 Each day, I answer the following questions when I am getting ready for bed or during a quiet time during the day. I find that reminding myself of all I have done, both to love myself and my life, reinforce my motivation towards my goals and put me in a better mood. I think of one or two things and write them in a journal, on a post-it, or reminder on my phone. Here is an example from last Sunday:
What did I do that made me happy today? Reconnected with an old friend from high school and had a meal with family and friends.
What did I do that made me proud of myself? Woke up early on a Sunday (I am generally a late riser) and went to the gym for longer than I anticipated!
How did I respect myself (or my body) today? Nourished my body with a healthy dinner, went to the gym for a killer workout and pampered myself with a foot massage.
How did I show myself and others love today? I helped my friend, who was super stressed out, prepare for her post-wedding brunch. For myself, I made a delicious dinner with tons of fresh vegetables and I am going to bed early.
How did I motivate myself towards a goal today? I brainstormed ideas for future blogs/vlogs and began organizing my week.
You may not feel the need to ask yourself all of these questions everyday. Yet, if you can reinforce the good, the happy, and the love you experience, you are in a better place to be able to hit those resolutions and goals because you believe you can. Your confidence skyrockets and you start to give yourself credit for the small changes. Remember all big changes begin with subtle shifts and the belief that you can do it.
Emily is the author of Express Yourself: A Teen Girls Guide to Speaking Up and Being Who You Are.You can visit Emily's Guidance Girl website. You can also find her on Facebook, Google+ and Twitter.
APA Reference
Roberts, E. (2013, January 2). Achieve Your Goals This Year With Some TLC, HealthyPlace. Retrieved on 2023, December 4 from https://www.healthyplace.com/blogs/buildingselfesteem/2013/01/achieve-your-goals-this-year-with-some-tlc
Author: Emily Roberts MA, LPC
It's okay to take care of our family and those rely on us but we have to also consider than it should not be the reason for us to loss time for ourselves.. Thank you so much for this article, it's great.
Thanks for the reminder. I agree with you and the self love.
Wishing you a Happy New Year! I am working on loosing weight. Self-belief is important and your questions will help me see what I have accomplished each day, even if they are baby steps towards change.
Leave a reply