Antidepressants Help Me Treat My Depression
In the past year I've met a few people who have very strong views about antidepressants, mostly with the opinion that they are unnecessary for treating depression effectively. It's easy to start to believe this, as long as I'm on my medication and am feeling positive. I've just had three days without one of my antidepressants, however, and I never want to go off it again.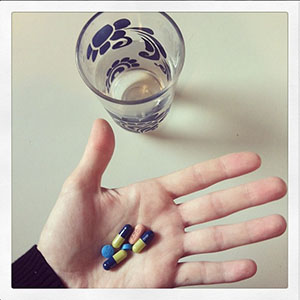 This medication I'm on has the unfortunate side-effect of headaches. I've had a wicked migraine for five days now and I stopped taking my antidepressant to see if it would help lessen my pain, but all it did was increase my depression.
At first I didn't notice much of a change in my mood from stopping my antidepressant, but three days off of it and I felt like a broken shadow of myself.
My personality felt light-years away. Any time I hear from a friend or family member through a text message or a phone call, I feel like they barely care about me at all and have no idea how I feel. It's like I'm at the far end of a deep dark tunnel.
Taking Antidepressants for Depression is a Personal Decision
There are countless opinions about antidepressants, but the only two opinions that matter to me today are my own and my doctor's.
This medication helps me a lot. It helps me have the energy and drive to not only survive in this world, but to also self-direct my depression treatments.
Without being on medication, I don't have the energy or will to do anything beyond curling up on the couch under a blanket. Medication helps me get up, shower, get dressed, and interact with the world.
Being in the world allows me to also implement things like exercise and self-care into my routine. Reaching out and spending time with friends keeps me in good spirits.
If you are uncertain about taking antidepressants, visit some of the resources on HealthyPlace like, Antidepression Medications for Depression, to learn more about medication and if it's right for you. Every one of us is different and we are responsible for taking care of ourselves.
Education is key, as is taking note of your personal experience. Keeping a record of the medication you take alongside a mood journal can help you stay on top of your depression treatment, giving you the experience you need to know if antidepressants are helping you.
It takes time to find the right medication and the right dosage, so be patient. You are worth it.
You can also find Erin Schulthies on Twitter, Google+, Facebook and her blog, Daisies and Bruises: The Art of Living with Depression.
APA Reference
Schulthies, E. (2014, December 4). Antidepressants Help Me Treat My Depression, HealthyPlace. Retrieved on 2023, December 5 from https://www.healthyplace.com/blogs/copingwithdepression/2014/12/antidepressants-help-me-treat-my-depression
Author: Erin Schulthies
Alongside your positive experience with antidepressant, i can to stress the great importance of psychiatric treatment of depression with antidepressant, as the fist and the most sophisticated approach to this stubborn and serious psychosomatic entity. Against many side effect of antidepressant, they indicate the mindful intervention to this common mood disorder with many clinical pictures.In addition, antidepressant ameliorate and improve the cardinal signs and symptoms of depression, such are losing of will and interest, fatigue and cognitive depletion. But the indication and dosage of antidepressant should be in close supervision of clinical psychiatrist, becase any deviation of antidepresant prescription and usage have got many dangerous implication and irreparable consequences. However, antidepressant therapy should be chosen and monitored by individual basis and characteristics of respective patient. This and many others pharmacologics aspect of antidepressant should be apply in order to prevent the life risque outcomes of depression. Once more, the benefits of antidepressant are of great helpful to definitive course and prognosis of depression. So. the ultimate use and taking af antidepressant therapy is the best way and manner to comprehensive psychiatric treatment and management of this modern epidemic
Hi. I wish I can be that happy and satisfied about antidepressants that I am on since 2010. Till today and still facing troubles of moving on and carry on with my previous life. I m away from social interaction since Jan 2014. Had to leave my job because I was not able to continue coping with the stressful type of Job that I used to do. I reached a point that I could not attend a business meeting with colleagues arguing on any topic anymore. I know that since 2001 till 2010, I had been during a type of demanding Job , working long hours, many business travels, lots of deadlines to meet and on top of all I am a single-parent since end of 2001 raising two kids (son born in 1998) and a (girl born in 2000).
Now I m simply spending most of my days in my room. Not being able to commit to a job that I cannot fulfill. And have to cope with all the financial responsibilities for my family and home.
Currently facing the new challenges of father teenagers type of conflicting relationship. A very tough time that I can barely able to sustain and continue doing. I am a total wreck ans struggling day by day...
Leave a reply