About Elizabeth Caudy, Author of "Creative Schizophrenia"
My name is Elizabeth Caudy. When I was little, I always knew my uncle was different. As I grew older, I was able to grasp that he had schizophrenia. Since I knew schizophrenia ran in families, I was always afraid that I would become schizophrenic. And I did.
My Schizophrenic, Psychotic Break
I had my first psychotic episode in 1998 while a student at the Rhode Island School of Design. I was 19 years old. Susanna Kaysen writes in Girl, Interrupted that "most people go insane slowly, while for others it's swift and complete." For me, it was both. It was clear that I was suffering emotionally through my teens, and then one day I was calling up my mom from college and telling her George Harrison was following me.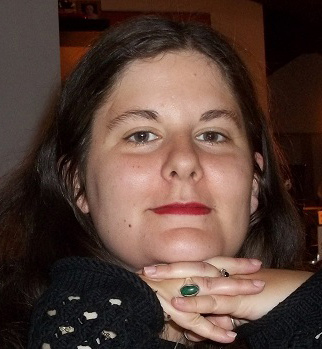 It wasn't just George Harrison. I literally thought the whole world was out to get me. I dealt with this by hiding out in the bathroom and chain smoking, being careful not to be in view of the window. I was prescribed an antipsychotic, and after a few weeks on the medication, I realized it had all been in my head. I came to the awful understanding that my whole reality for those few weeks had just not happened. As the doctor in the movie A Beautiful Mind said, "Imagine what kind of hell that would be."
My Schizophrenia Now
I am now on a cocktail of medications that seems to be working for me, even though an antipsychotic makes me overweight and I still occasionally hear voices. I used to be a chain smoker, before I quit smoking, but that's really the most harmful thing I ever did. Still, there's this stigma that people with schizophrenia who hear voices are violent. I'm thrilled to be writing for Creative Schizophrenia as a way to bust that stigma. I consider my writing to be a form of activism as well as of artistry.
Why I'm Writing for "Creative Schizophrenia"
My favorite thing about communicating about my illness is when people who I think have it all together tell me that, in a small way, they can relate to what I'm saying. That's busting stigma. Since I have a Master's of Fine Arts in photography, am married, work a day job, and am now, thanks to HealthyPlace, a writer with an audience I care about, I hope other people with schizophrenia will see that you can have a full life with this disease. It doesn't mean you have to live in a hospital your whole life like my uncle did. Yes, it's a terrible illness that I struggle with daily, but it's not the end of the world.
More about Elizabeth Caudy and "Creative Schizophrenia"
http://youtu.be/hOd8ahAiOV0
Find Elizabeth on Twitter, Google+, Facebook, and her personal blog.
APA Reference
Caudy, E. (2015, January 7). About Elizabeth Caudy, Author of "Creative Schizophrenia", HealthyPlace. Retrieved on 2023, December 9 from https://www.healthyplace.com/blogs/creativeschizophrenia/2015/01/about-elizabeth-caudy
Author: Elizabeth Caudy
Reading this has been such a game changer for me, because my daughter is spot on with everything you describe. She is 14 and the voices, suicidal thoughts; seems to strengthen during the cycle. I really wish that one day we could meet, so she wouldn't feel alone. I don't know how to respond to some of the things she says or does. It scares the hell out of me that she hears voices and has suicidal thoughts. I am really glad I came across your blog and will sit with her as we read some. Thanks and stay strong.
Thank you. One thing that really helps me is to remember that the voices aren't real. Make sure your daughter knows the voices aren't real.
Hi Elizabeth Caudy, I love reading your blog posts, thank you for all the time and effort you put into them.
I have been studying your blog posts for months now and I am final year Psychology student in the UK, currently writing my dissertation, conducting a thematic analysis on published blog posts around experiences of treatment of schizophrenia.
I have included a few of your blog posts (as well as other peoples) in the dissertation and I would love you to read it when its finished?! If so please leave me a message so I can contact you.
Best wishes, Lauren.
Dear Lauren, Thank you for your kind words about my blog. But I must tell you that reproduction of any post is a violation of copyright. I'm sorry to have to tell you that, but it's true. I hope you can easily leave the blog posts out of your dissertation. Warmest Regards, Elizabeth
Hi researcher, I have Schizoaffective disorder for exactly half my life now, I've lived in nhs hospitals for around 6 years in total and I have seen too much, I have been traumatised by it and one psychologist.... it looks like I have a reimergence of cancer. The illness made me bling myself in one eye 6 years ago and jump of a bridge 10.... they said I'd never walk again. I've just bought myself a new computer and would like to write a book on psychosis..... wow! The things I've experienced (and never hurt anyone else), just the difficult thing is motivation! If anyone has any good ideas, please email me on mzerihan@yahoo.co.uk thanks.
I think more needs to be told about paranoid schizophrenia as well as skitsophrenia it's self I have paranoid schizophrenia and I've been searching for information I take my meds everyday but I still hear voices not as bad as before but I don't want to tell the doctor because I don't want to be on any more meds
Nice story Elizabeth mental illness runs in my family I personally have multiple personality disorder and social anxiety. But my mom was a definite schizophrenic and my brother killed himself. Even understanding wat I'm dealing with I still have to take a "vacation" (bakeract myself). And the people who work there try but wat they no is from books. Since I started taking these vacations I've also started reading up on all mental illnesses so after all that I will try to help where I'm able. Like the last time I went there was a girl with schizophrenia standing by me while I was on the phone wen I just by instinct push the girl back and slammed another trying to go after her. The girl push from getting attacked understood very little after that. I only realized a little earlier wat was "wrong" with her cuz the way she acted was flip floppy. I honor u for ur courage for continuing forward. One last thing I have to say, I recently got me a semicolon tatoo for mental health awareness.
Thankyou for your posts. I relate on the topic of diagnosis. I have a very bad auditory and visual manic episodes. Gets violent in my head. Results in self affliction sometimes. I look forward to reading your book. If i can get a job or go to school. Been hard doing anything with my type of diagnosis.
Leave a reply