How to Choose a Therapist for Dissociative Identity Disorder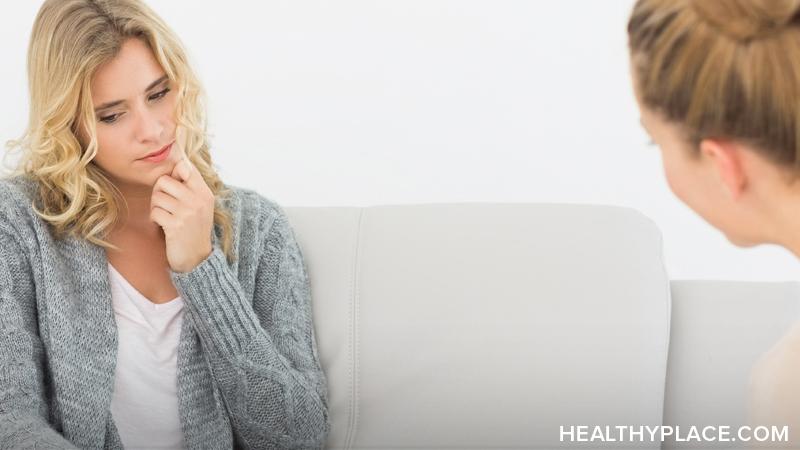 Knowing how to choose a therapist for dissociative identity disorder (DID) is much different from knowing how to choose a car or a box of on-sale cereal. DID treatment can be challenging and there are so many considerations to ponder when choosing a therapy for DID. Do you need a specialist? Do you need a DID therapist? What brand of therapist do you need? What type of treatment does he or she offer?
When searching for a DID therapist, you might look at plenty of names, a profusion of credentials, an abundance of psychological groups, or a plethora of specialties. How do you know which therapist will be a good fit for your unique DID symptoms? What qualities does an effective dissociative identity therapist have? Do you even need a therapist that specializes in DID to become well?
Qualities to Consider Before You Choose a Therapist for DID
Define a 'Good' Therapist
Listed below are 10 qualities to consider in choosing a therapist who is willing to treat DID:
He or she:
develops a trusting and healthy therapist-patient relationship.
is willing to do additional research on your condition and to admit when he or she does not have an answer to your questions or is wrong about something related to you or your condition.
accepts that DID is real and does not shame or judge you for your symptoms. He or she is comfortable with all headmates in the system.
does not accuse you of lying because your statements and symptoms might appear to be inconsistent.
adapts to the needs of the system. Being a therapist that treats someone with DID means meeting the needs of headmates that might have competing needs. An effective therapist will understand how to address these needs and attempt to meet everyone's desires. For example, there have been occasions when our littles would come out in session, so our therapist would play checkers or other games with the little ones in our system. This is one way of adapting to the needs of all in the system.
gives plenty of notice regarding absences and vacations. An effective and considerate therapist will provide several remarks or warnings that he or she will be unavailable. However, a conscientious therapist will provide alternative and emergency therapists to attend to you in case of emergency and crisis (How to Deal with a Therapist's Absence).
will offer additional session(s) if appropriate. While this might not be available all the time, a good therapist who treats DID will understand the need for more support and attention.
responds to emails and phone calls in a timely manner, even on the weekends, if possible. A therapist who is willing to check in on you during the week after a tough session makes for an effective DID therapist.
will be In it for the long haul and has a history of longevity with his or her patients. Likewise, a good therapist will be someone who won't run when the going gets tough. The therapist will be tireless, patient, adaptive, and unrelenting in his or her treatment of you.
is patient. You should mostly set the pace of therapy but should sometimes allow the therapist to challenge you a little bit more if you can handle it. The therapist should have patience regarding what you are willing to do and can handle.
While all these qualities are wonderful, what makes the most difference in a client/therapist relationship is the connection the two of you have. How well do the two of you get along? How well do you communicate?
Respecting Boundaries in the Therapist-Client Relationship Matters
Should You Choose a Therapist Who Specializes in DID?
My therapist does not specialize in dissociative identity disorder; however, we communicate well, I feel heard, and I believe he has my best interests at heart. While he does not possess every single one of these qualities, he does practice many of them and still maintains his effectiveness as a good therapist.
Finally, this list can be a tall order, and no therapist can be all things to you all the time. If you have a therapist who possesses even some of these qualities, then you have a therapist who is worth holding on to. Also, always let your therapist know how appreciative you and your system are for having the therapist in your life.
APA Reference
Hargis, B. (2018, March 21). How to Choose a Therapist for Dissociative Identity Disorder, HealthyPlace. Retrieved on 2023, December 5 from https://www.healthyplace.com/blogs/dissociativeliving/2018/03/how-to-define-a-good-did-therapist
Author: Becca Hargis
"I have had to move several times over the years.. First diagnosed with Major Depressive Disorder, GAD. After a few years I was diagnosed by 4 psychiatrists and 2 psychologists. with DID and it totally has made a difference knowing what's been going on all these years. My current therapist was recommended by my previous therapist who helped me the most but she passed away after 5 yrs of therapy with me. The new therapist has been helpful but I just can't seem to get traction in my therapy. There is no one that I can find in my relatively small town that has experience with dissociative disorders.. Is there any things that I can do to communicate with potential therapists to find out if they can help?I've found that some of the lists of drs listed by state often state they specialize in DID or dissociative disorders but when I investigate, they are not experienced."
My daughter is a multiple, and one of them is a social path, who I dread coming out. One is kind and astute, one is about two years old. I have dealt with this her whole life, she will not let anyone put her under Hypnosis. I wrote a letter to Dr Phill and few years back and got no response. When she was in the hospital they saw it and charted it. I need to get all her records. My prayer is for her to be shown the other personalities. I played a horrible phone message she left me once. When she herd it she cried and said it was not her. Thank you
I live in SoCal and have yet to find anyone here who is covered by Anthem Blue Cross. Ugh.
I live in Norther Ireland and have been trying to find a psychiatrist tto diagnose DI D but I cant find any - does anyone know a good one - even England would do....
This is great if you have a starting list you are whittling down. I have yet to even find a single provider in my area (within 200 miles) that can, or will, diagnose DID/OSDD. My life is in chaos, I've got parts that have gone dormant that we need to get back (she's dormant due to trauma last fall) and I need help knowing what's going on. It should not be this hard to find help. We've been looking for months now and are no closer than when we first became aware of our alters.
Try Dr. Paul Schwartz in West Chester, Ohio. He offers online.
I need a psychologist and psychologist that specializes in DID. Noone truly believes about this problem. Or at least that I can tell.
I know it feels like no one believes but there are some out there. I agree with the above list of what makes a good therapist. Mainly because I am one of those therapists and I have DID.. You are not crazy and you are not alone. Biggest hint for some kind of peace in your system is don't fight. Accept everyone, find their needs, find their strengths, thank them for their help, and find a way for them to have a valuable place in your present life.
I am not leaving my information due to me not having a high enough license to be a help to anyone out of my area or state I live in. Also if some of my clients find out I have DID it would hurt them. The ones that need to know do and my alters interact with theirs.
Leave a reply