Drug Treatments for Anorexia, Bulimia and Binge Eating Disorder
We have drugs for everything now, right? Too hot, too weak, too sad, too hyper - there's a pill. Not enough hormones, low insulin, can't breathe - the doctor has a script for you. But what about anorexia? Bulimia? Binge Eating Disorder?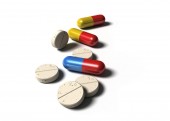 Isn't There A Pill For That?
I was surprised to learn that there were few available medications for eating disorders. Yet it makes sense now: we don't know exactly what - or what combination - of brain changes are happening to a person who develops these conditions. Psychiatric drugs are hard to work with because the symptoms one is treating, and the measurement of success, require the patient to have self-knowledge and report changes accurately. With mental illness, there are problems with perception, insight, and motivation.
We do not yet know what genetic, biological, chemical, structural, or external stimuli are involved. We do not know how to measure success. We don't even know if the categories we use to describe these eating disorder conditions are valid!
We do have some leads, however, and it does seem to depend on diagnosis.
State of Nutrition Matters
When a patient with anorexia is undernourished, the question of drugs is complicated. Most psychiatric drugs require nutrition to work properly. Although some so-called antipsychotic drugs and anti-anxiety medications are sometimes prescribed to help through the distress of restoring a malnourished patient, the renourishment itself is the primary "drug" of choice. Lack of nutrition and stored energy in the body - even just below normal needs - have a drug effect of their own: numbing emotions. Taking away that 'drug' by feeding the patient fully sets off a kind of withdrawal effect: crippling anxiety and mood changes.
The News For Bulimia Is Better
Medication treatments for bulimia are more encouraging. Bulimics are less compromised nutritionally (though they suffer other horrible side effects) and respond better to drugs. I'm not being specific here for a reason, though: these are issues that must be discussed with medical professionals with a specialty in eating disorder treatment.
Medications for Treatment of Binge Eating Disorder
How about Binge Eating Disorder? Here's the sad thing: we don't know. Too little research has been done to know what helps, or comparing treatments. It is only in recent years that BED has been recognized as an eating disorder in its own right, and research is just beginning.
So far, I have seen no reason to believe that eating disorders could ever be treated entirely by drug treatment. Treatment for these complex conditions require multidisciplinary attention and the best bet is to find and work with cutting edge evidence-based specialists.
APA Reference
Collins, L. (2010, May 26). Drug Treatments for Anorexia, Bulimia and Binge Eating Disorder, HealthyPlace. Retrieved on 2023, December 8 from https://www.healthyplace.com/blogs/eatingdisorderrecovery/2010/05/isnt-there-a-pill-for-that-drug-treatments-for-anorexia-bulimia-and-binge-eating-disorder
Author: Laura Collins
See, its people like you and websites like this that inspire me to think we will one day find a guaranteed solution for bulimia nervosa. Knowing that individuals have to grow up and deal with a disease as draining as bulimia breaks my heart, Im glad people like the ones that run this blog are making a legitimate effort in educating the public and attempting to make a difference. Thanks again.
My daughter has had an eating disorder of one kind or another for 12 years and has also suffered from intense anxiety all that time. Two and a half years ago she received a diagnosis of bipolar disorder, was put on meds, and she is now on six of them. The meds for bipolar do pretty well helping control that condition, but her eating disorder(s) and anxiety are as strong as ever. The anxiety hardly lessens at all unless she is practically unconscious from the medication, which is an unacceptable situation.
Obesity (Silver Spring). 2008 Sep;16(9):2024-38.
Review and meta-analysis of pharmacotherapy for binge-eating disorder.
Reas DL, Grilo CM.
Institute of Psychiatry, Faculty of Medicine, University of Oslo, Oslo, Norway.
Abstract
This study evaluated available controlled treatment studies to determine utility of pharmacotherapy for binge-eating disorder (BED). The authors identified randomized placebo-controlled trials testing pharmacotherapy-only treatments and controlled trials testing pharmacotherapy with psychotherapy treatments. Meta-analysis was performed on placebo-controlled trials with data for attrition, remission, and weight loss. Qualitative review was performed on remaining controlled treatment literature. A total of 33 studies were considered of which 14 studies with a total of 1,279 patients were included in the meta-analysis of pharmacotherapy-only treatment and 8 studies with a total of 683 patients were included in the qualitative review of pharmacotherapy combined with psychotherapy interventions. No evidence suggested significant differences between medication and placebo for attrition. Evidence suggested that pharmacological treatments have a clinically significant advantage over placebo for achieving short-term remission from binge eating (48.7% vs. 28.5%) and for weight loss, although weight losses are not substantial. No data exist to allow evaluation of longer-term effects of pharmacotherapy-only treatment for BED. Combining medications with psychotherapy interventions failed to significantly enhance binge outcomes, although specific medications (orlistat, topiramate) enhanced weight losses achieved with cognitive behavioral therapy and behavioral weight loss. In summary, BED patients can be advised that certain pharmacotherapies may enhance likelihood of stopping binge eating short term, but that longer-term effects are unknown. Although some weight loss may occur, it is unlikely to be substantial with available medications. Combining medications with cognitive or behavioral treatments is unlikely to enhance binge outcomes, but specific medications (orlistat, topiramate) may enhance weight losses, albeit modestly.
PMID: 19186327 [PubMed - indexed for MEDLINE]
Leave a reply