Self-Diagnosis With SynAPPS®
Sooner or later we are all tormented by that nagging, unnerving question. You know the one. Am I wearing my underwear over my clothes? Is my cheese slipping off the cracker? Am I marching to the beat of a different didgeridoo? Is the diploma in my den from Whassamatta U?
Like a pebble wedged firmly in your shoe the uncertainty refuses to leave, taunting and mocking until thinking of anything else is impossible.
I've been troubled by these moments of existential meltdown for decades, which is why I was so excited when my friends at Kronko told me about self-diagnosis with SynAPPS® - the latest in "smart" applications for iPhones, iPads, and ay caramba. Here's how it works. As an intelligent application, SynAPPS® records your online activities in order to build, and regularly update, a psychodynamic knowledge base enabling it to gauge your sanity quotient on demand.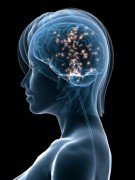 On-Line, Real-Time Sanity Checks!
Feeling a little squizzly? Starting to wonder if you're safe behind the wheel of a front-end loader, steamboat, or roulette table? Simply let SynAPPS® determine your degree of sanity with a flurry of carefully crafted questions designed to slip through your layers of delusion and self-deception for a look at the unvarnished truth.
Below you will find some of the generic, pre-loaded questions; note that questions become more specifically targeted to your individual psychological make-up the longer you use SynAPPS®.
1. Do all people lie? Yes No
2. Do you lie? Yes No
3. Are you lying now? Yes No
4. Are you feeling just a wee bit squizzly? Yes No
5. Are you lying now? Yes No
6. How about now? Yes No
7. Is life just a metaphor for golf? Yes No
8. Is fishing just a way to hide a drinking problem? Yes No
9. Is drinking just a way to hide a fishing problem? Yes No
10.Do you lie about the size of the fish you catch? Yes No
11.Are you the Emperor of France? Yes No
12.Do you enjoy ruling France? Yes No
13.Would this be a good time to lie about ruling France? Yes No
14.When a hoodlum approaches, do you cross the street? Yes No
15.When a hoodlum approaches, does he cross the street? Yes No
16.Is sanity overrated? Yes No
17.Okay, you're sure you're the Emperor of France? Yes No
18.Is "reality" just everyone believing the same illusion? Yes No
19.Is squazmogrified pontippelation inexorable? Yes No
20.How about now? Yes No
If you answer just one of these questions incorrectly, SynAPPS® sends a comical e-card flagging your loopitude potential. Two inaccurate responses generates a warning call to the local police, and three mistakes prompts a power surge strong enough to knock you out until you're more yourself.
SynAPPS® from Kronko. You'll never have wonder if you're whackadoomius again.
APA Reference
McHarg, A. (2011, August 31). Self-Diagnosis With SynAPPS®, HealthyPlace. Retrieved on 2023, December 8 from https://www.healthyplace.com/blogs/funnyinthehead/2011/08/self-diagnosis-with-synapps
Author: Alistair McHarg
Angela: It's a huge compliment and I thank you very much. You're clearly my kind of peep. All the best, A
Have I mentioned I find you hilarious? Of course, that may not be much of a compliment, considering I'm whackadoomius and highly politically incorrect. :)
Leave a reply