The Bliss Two-Step - Take the Lead to Fulfill Your Happiness
Nothing is more important than reconnecting with your bliss. Nothing is as rich. Nothing is more real.~Deepak Chopra
Do you want bliss? Do you ever feel outside yourself? Are there times when you feel life is larger than you? When was the last time you felt more beautiful and more powerful than ever?
Take the Lead to Fulfill Your Happiness
Lead the dance. Your actions will follow. Sometimes the music of life gets so loud you find yourself listening and falling into a rhythm that is not in harmony with your desire to live a blissful life. But, like leading a dance, you have to develop a good understanding of your rhythm and timing on the dance floor of life. Visualize and see the life you want to create. Close your eyes and see every detail. Allow your mind, body, and spirit to fully experience your ideal outcome. Think about it like this: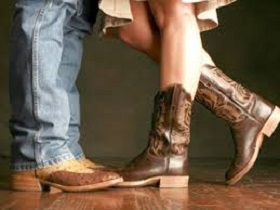 I reside in the Hill Country of Texas. And, in Texas, we have a partner dance called the Texas Two-Step. It consists of a "leader" (traditionally a man) and a "follower" (traditionally a woman). The leader controls the movements and patterns of the pair as they move around the dance floor. Now, imagine a progressive dance that proceeds counterclockwise around the floor—it's rhythmic.
Likewise imagine the Bliss Two-Step. In this case, your thoughts are the leader. Since not everyone is going to experience bliss in the same way, you control how you will define your idea of bliss. Just imagine living in such an amazing state-a magnified emotional state of joy, fulfillment and happiness. The follower is your own actions. With any dance, sometimes we trip up. Of course, with the Bliss Two-Step there are periods when life can bring to bear times of dissatisfaction and sadness. But, how you respond to those times is up to you. Go ahead;take the lead to fulfill your happiness.
Declare Your Own Bliss
Declare your bliss. Visualize what it feels like. Decide what actions you need to take to achieve that state. And dance the Bliss Two-Step as though no one is watching!
To learn more about bliss read: What is Bliss? What Does Living A Blissful Life Mean?
You can also find Dr. Savion on her website, Google+, Twitter, Linkedin and Facebook.
APA Reference
Savion, S. (2014, March 30). The Bliss Two-Step - Take the Lead to Fulfill Your Happiness, HealthyPlace. Retrieved on 2023, December 9 from https://www.healthyplace.com/blogs/livingablissfullife/2014/03/the-bliss-two-step-take-the-lead-to-fulfill-your-happiness
Author: Sydney Savion, D.Ed.
This simple little essay contains subversive profundity, to my mind. What I see at it core is an idea that is contrary to all the usual social control directives to which we are subject, in our growing up and in our adult lives: do the "right thing", be good, be nice, be cool, be legal...and on and on.
Instead, you suggest an internal source for these directives: our own thoughts, informed by our imagination. Are you sure that's legal in Texas? Probably not, in truth!
I propose taking it one step further: alongside our thought, and irretrievably enmeshed with it are our affect responses (feelings) to ourselves and our world. I propose actively promoting a dialog between what these affective responses say and what our thoughts say. The result, when well done, should be an integrative sense of being in the moment that may be characterized by a key idea: authenticity. It is who and what we are.
It appears to me that when we allow this integrated authenticity to lead us, using your delightful partner dance metaphor, we are engaging in the sort of dance long ago proposed by Hindu philosophers, a dance both of creation and destruction, the two sides of being. Put in the most mundane of terms, it should "just work".
Your thoughts?
Leave a reply