Adult ADHD and Animal Zen
This weekend I had the privilege of co-housesitting with my wife for a lovely couple with an adorable pup named Lola. Lola, being a pup, doesn't suffer from adult attention-deficit/hyperactivity disorder (ADHD), though she was as excited as I was to run circles around the dining room table with a toy in her mouth. My last final of physical therapy school was Friday, my adult ADHD having been pushed to the limit with five finals during the week, Lola provided some much needed animal Zen.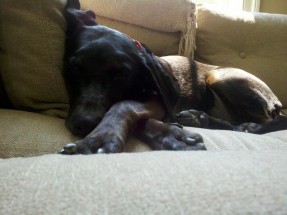 What Evidence is There that Animals Bring Zen?
Well, first off, I think we all can agree (or at least should agree) that animals are wicked stinkin' cute and cute things just have to lower blood pressure. It's great that studies have shown that petting animals lowers blood pressure, but it's also just common sense. The picture above of Lola looking outstandingly adorable is proof all on its own. Lola lowers blood pressure.
An article by Beetz et al discusses the effects of human animal interactions (HAI). There is some evidence to suggest that HAI can result in a reduction of stress chemicals in the body, an improved immune system function (What!?), reduced aggression, increased empathy and improved learning. That's amazing. They think that oxytocin, the same substance released when mamas breastfeed their babies, is at least partly responsible for much of this. This paper by Beetz et al was a compilation of a LOT of studies - 69 in fact. It put together what all of those papers thought and found out in their research and made one giant paper. We can believe their giant paper even more than we can those little papers, so my idea that animals are the best ever is basically 100% correct.
Adult ADHD and Animal Zen
Back to Lola. My adult ADHD had been stretched to the limit with finals exams, like I said earlier. Lola reminded me, though, that having a good sized head (like she does) can cancel out many disruptive parts of life. Forget what muscle is responsible for moving my arm or hand, all I knew when petting Lola was that I loved it. I found the kind of Zen in petting Lola and laying my head on Lola that I find when doing a really good puzzle - only better. This Zen was warm and looked at me with big eyes and rolled around the grass when I took her for walks.
If you don't have an animal, I highly suggest finding a friend who does during a stressful time in life. I have two perfect cats (Well, Nemo has three legs, so perfect might not be how you describe him, but it is how I describe him.) and falling asleep to the gentle rumble of purring helps me fall asleep every night. If you're allergic to animals, maybe watch some videos of pandas at the zoo being adorable.
You can also connect with Elizabeth Prager on Google+, Facebook and Twitter.
APA Reference
Prager, E. (2014, April 28). Adult ADHD and Animal Zen, HealthyPlace. Retrieved on 2023, September 23 from https://www.healthyplace.com/blogs/livingwithadultadhd/2014/04/adult-adhd-and-animal-zen
Author: Elizabeth Prager