How to Let Your Adult ADHD Out
Last night, I had just about the best night ever and I didn't have to think about keeping my hyperactive monster in check or about staying focused. I found the ultimate way to let my adult attention-deficit/hyperactivity disorder (ADHD) reign free! The way my brain wants me to work is to make jokes 99% of the time, move around a lot, make others laugh a lot (did I mention that), switch accents up when talking and entertain people. My brain's desire doesn't always serve me well when it's not kept in check, but it did last night. Why? Because I went to a murder mystery dinner.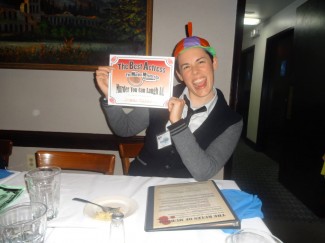 As soon as my wife, pal and I arrived, we sat at our table and were greeted by the class president. I forgot to mention - the theme for this mystery dinner was a 1950's prom. I was feeling happy and relaxed (this night out was a gift for my birthday), so I gave the "class president" a hard time. Minutes later, the host returned with a silly hat and a name card for me. I got to be a character in the show! Better yet - my character was the class clown!
Being the Class Clown
The description fit me perfectly. It said that I am smarter than I act and look and that my comedic timing is perfect. When all the evening's cast was introduced, I got to make a joke and it killed (no pun intended).
At different points during the evening, it was investigation time. Everyone had fake money to bribe the characters for whatever information they had to give. I had my Boston mixed with New York accent going in full force, made several puns and lots of jokes and was slaying everyone left and right (pun intended).
As the night came to a close, they announced whose team won (who solved the crime the best) and then they gave an award for the best actress. It was me! I got to be 100% myself and made people laugh and had the best time ever - and I won an award!
Being Myself and Letting my ADHD Out
This isn't just a story about my night, though I liked telling it all the same. Like most of my posts (I hope), there is a moral, or nugget of truth to glean. It feels amazing to feel free. When you find a place to be free and be without judgement from others or, worse, from yourself, you just get to be happy. Try and find that place for yourself. You might not win an award, but at least I did! Happy week, friends.
You can also connect with Elizabeth Prager on Google+, Facebook and Twitter.
APA Reference
Prager, E. (2014, August 11). How to Let Your Adult ADHD Out, HealthyPlace. Retrieved on 2023, June 10 from https://www.healthyplace.com/blogs/livingwithadultadhd/2014/08/how-to-let-your-adult-adhd-out
Author: Elizabeth Prager
sounds a lot like me and I was something else in school too. My teachers thought I was an obnoxious brat though. I even do the accents unintentionally when I describe what other people say sometimes. I am also an interpreter for a living and all of the languages I learned as an adult I used that to my advantage because it helps me. My bilingualism and the 3rd language at age 8 were different.
Luckily, as far as medication goes, I take short acting Dexedrine so I can have my little boosts in energy back and eat better. I grew up on too much of this med because my mom was under the impression that that would be all I needed and I used to cheek them because I like being hyper so I was always in trouble at school but I am 33 so back then it was more oriented toward that. My friends think I am hilarious off medication but if they see me on it they think I take everything too seriously and am overly appropriate but that helps for my work so it's a toss up.
Sounds like a terrific time! Glad you enjoyed yourself!
Leave a reply