APNA: Brief View From the Psychiatric Nurse's Station
I write this to you from Disneyland, where over 1,000 dedicated psychiatric nurses are passing up on Mickey and Goofy in order to become inspired, educated, and even better than they already are at their jobs. Thank you, members of the American Psychiatric Nurses Association, for wanting to help people like my son Ben as he struggles with schizophrenia.
[caption id="attachment_384" align="alignleft" width="170" caption="for attendees at APNA Conference"]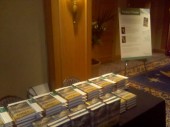 [/caption]
Tomorrow morning I will tell our family story at a "Product Theatre" breakfast meeting, along with an amazing nurse who shares this vision: together we will advocate for the value of teamwork between providers, caregivers, and those with the "life experience" of a mental illness diagnosis. I can't wait. The nurses I've met here so far are visibly enthused about any information to help them help people like Ben.
What I've been reminded of, though,by listening to them, is this: psychiatric nurses don't often get to see the results of their care. Part of my presentation has been planned to remind them that by the time they
meet family members like me, they are meeting people who are already near the end of their ropes. I want to fill them in on the family experience in the onset phases, when all is so confusing and chaotic. But now I know that I must add information from the other end of the mental illness ride: stabilization and recovery (however rocky the journey).
Listening to the more seasoned nurses, I realize that in the past, before hospital stays got cut off at the knees, they might have had the chance to see patients get better before the discharge date. They might have gotten to see some of the fruits of their caring. Now? As one doctor said to me recently, "we are kicking people out the door in the same condition that used to get them IN the door." Wow. So frightening - and how incomplete, to see only the "Acute care" side of a full human being.
So tomorrow I will share with these dedicated nurses some stories of Ben's progress as well, and how the right words and actions from caring professionals, helped us all to get through the chaos and dare to hope.
Thank you. Together we can keep the hope alive.
APA Reference
Kaye, R. (2011, October 20). APNA: Brief View From the Psychiatric Nurse's Station, HealthyPlace. Retrieved on 2023, December 1 from https://www.healthyplace.com/blogs/mentalillnessinthefamily/2011/10/apna-brief-view-from-the-psychiatric-nurses-station
Author: Randye Kaye
Today on 4-24-11 I heard the Tennies speak about their son Jason. I had just dropped of my son with whom I have ercexienped the exact same thing. I was sad and happy to hear their story. Sad because Jason is gone and I feel their pain and know that could very well be me any given day, but happy because I now realize that their are so many other people going through this and I am not alone as I often feel. Thank You so much.
Leave a reply