Mental Health Nurses: You Make a Difference
I recently had the privilege of addressing a group of mental health nursing students at Fairfield University in Connecticut. Their professor, Joyce Shea, had heard me speak with Mary Moller, PRN at the APNA (American Psychiatric Nurses Association) Annual 2011 Conference, and assigned Ben Behind His Voices as required reading for her mental health nursing students.
To my great delight, Ms. Shea shared with me some of her students' reactions to the memoir, and invited me to speak with them about how mental health nurses can make a real difference in the family experience when mental illness results in hospitalization.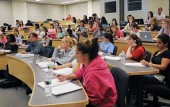 The students had to answer some questions after reading the book, and Ms. Shea was kind enough to share their answers with me.
Question #3 was thought-provoking: What would it be like to have Ben as a client?
Question #4 brought tears to my eyes: What would it be like to have Ben as a brother?
Not an easy question, perhaps - but a key to the compassion that helps families so much.

I loved meeting these students, and hearing their commitment to the work they are training to do. I was thrilled to have the chance to humanize not only the patients they will meet in their careers, but their families as well. Since they had already read my book, the messages only had to be reinforced rather than introduced.
There are moments from Ben's eight hospitalizations where such nurses saved me from hopelessness and complete despair. I speak of these moments in the book, because I feel it's so vital to talk about what goes right where professionals are concerned. Inspiration beats criticism, many times.
Some examples:
1. An ER nurse who silently walked past while Ben and I waited in the hallway for a room to become available - and simply slipped a pillow behind me so I could rest for a moment. He saw my pain and fatigue, and this little gesture meant the world to me.
2. The head nurse during Ben's first 35-day hospital stay who took the time to tell me, "We really love Ben. Even when he refuses his meds, he is polite and respectful. He says, no thank you ma'am. We can see how well he was raised. You must be a wonderful mother." At that time of guilt and self-blame, this sentence reaffirmed my worth as a parent - and also Ben's kind nature as a human being.
3. The intake nurse, who while taking info from me for Ben's re-admission this summer for relapse (see post from Summer 2011), looked up from her paperwork and said, "I'm so sorry this has happened again.". That five-second sentence, that moment of empathy, changed my entire experience.
4. The staff on the psych unit who noticed Ben's improvement after going back on his meds - and also that he was now bored with the amount of stimulation that had previously been overwhelming. So - they gave him purpose. Something to do. He was asked to help hand out paperwork at group meetings, and to suggest topics for discussion. Feeling useful really added to his recovery process.
5. Nurses who allowed our family to partner in Ben's recovery. How? They took the time to ask our family for information, and to listen to our answers to questions. They had information as to how we could empower ourselves through education: NAMI, the court system, books, websites. They knew that an educated family is the best ally. We become partners in open communication, not adversaries. And, by the way, there were some psychiatrists who did the same - and as a result Ben went back into recovery, a partner himself in the treatment plan.
So to you who take the time to "look up" - I say a big thank you. And I welcome the chance to speak with you to tell you so - from students to experienced practitioners. I am thrilled to be speaking soon at Monmouth University, Arizona State University, the American Psychiatric Association, National Council of Mental Health and Addiction, University of Mount Union, and the NAMI Annual Conference 2012. I am also thrilled to hear of other nursing and psychology programs who are also assigning this memoir to their students as required reading. I hope to get a chance to meet you all!
APA Reference
Kaye, R. (2012, February 29). Mental Health Nurses: You Make a Difference, HealthyPlace. Retrieved on 2023, October 4 from https://www.healthyplace.com/blogs/mentalillnessinthefamily/2012/02/mental-health-nurses-you-make-a-difference
Author: Randye Kaye
As a professor of psychiatry in Nursing Faculty, I am obliged to stress that the role and place of nursing staff in the treatment of psychiatric patient is crucial one. In a word, the nurse is mediator between patient and psychiatrist, who should to follow up the process of treatment from close up. To accomplish this important deeds, every nurse should to know the principle of psychiatric care from admission to departure of any patient from Psychiatric Unit. Above all, it ought to perform both a sensitiveness and regret toward psychiatric patient and their close relatives. Otherwise, we put in danger the therapeutic process as well as to compromise the whole recovering course from any psychiatric disease. Your genuine experience give evidence to this suggestion.
Hi Randye,
Sounds like you and your book are really making a difference. Yay!
Take care of yourself...
Leave a reply