Stories of Mental Illness: Why Tell Them?
I just returned from a trip to Phoenix, Arizona, where for three days I've been on a whirlwind tour of interviews, meetings, and one community lecture, courtesy of Arizona Foundation for Behavioral Health (AFBH) and ASU's Center for Applied Behavioral Health Policy - all to tell our family story to those who will, we hope, be affected by it in some way.
[caption id="attachment_669" align="alignleft" width="170" caption="Shore House Book Event"]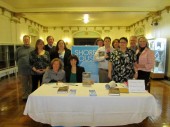 [/caption]
A week ago, I had the pleasure of doing the same for Shore House (based on the International Clubhouse model) at Monmouth University in New Jersey.
Three states, three sets of similar mental health issues.
I hear others' stories every time I speak, especially when it's time for Q&A, and each one brings home the ways that things could be improved for those affected by mental illness: job coaching, supported housing, better research, earlier detection and treatment, more empathy, more resources. Instead, funds for services and programs are being cut in too many states - a decision that is not only pound-foolish (I won't even call it "penny-wise" - there is no wisdom in reduction of services at all ) but often leads to disaster.
Why do we do it? Why do the bloggers here on HealthyPlace
APA Reference
Kaye, R. (2012, March 11). Stories of Mental Illness: Why Tell Them?, HealthyPlace. Retrieved on 2023, September 30 from https://www.healthyplace.com/blogs/mentalillnessinthefamily/2012/03/stories-of-mental-illness-why-tell-them
Author: Randye Kaye
I have a story of my life and am also writing a book called Unfathomable betrayal.
Where and on what shows can i post and publicize something that is happening right now in my life that is toxic, sick and very bad?
Hello, I am seeking people with mental illness to share their personal stories with the readers of New York City Voices, a consumer journal for mental health advocacy. Please contact newyorkcityvoices@gmail.com and I will email to you the latest issue for your consideration.
Hi Dan - I think I met you years ago at the Schizophrenia conference at Columbia University - my son "Ben" is not really ready to share his story, but when he is I will let you know!
thanks,
Randye
If more people write articles of this kind, we are bound to see the change we have been waiting for.
An impressive article. Thank you.
Jill
Thank you, Jill. That change will be most welcome!
Randye
[...] was called "Personal Stories of Recovery." But it can't just stop with the story. We tell our stories for a purpose…and, in this case, I asked the group to note, as they listened, which provider actions worked [...]
A very compelling article. Mostly we speak for understanding. In the more physical side of healthcare, we diligently fight the good fight to treat cancers and other aliments without questioning the need to undertake a treatment program. In the mental health community we struggle over the priorities of support and treatment and argue over medication and counseling while simple access to treatment is unfunded or denied. At the heart of this dilemma of treatment is the very definitions of illness themselves, defined functionally not medically, and subject to interpretation. Worst of all is a common attitude of telling someone to just "deal with it" when that is precisely their inability given their condition. Telling stories of the challenges presented to individuals removes some of the mystery and confusion about the issues involved. As parents we can speak to the lack of knowledge and empathy of others. What needs to change is an attitude of dismissal by those who are uninformed about the issues involved.
Thank you for your comments, Don. You phrased it all so beautifully. We do indeed "speak for understanding." Doing our best to change one mind at a time by speaking to, and with, the heart. Thanks again!
Randye
Leave a reply