Engaging the Family in Recovery: Top Ten Action Steps for Providers
[caption id="attachment_794" align="alignleft" width="170" caption="Senator Tom Daschle Delivered an Inspiring Keynote - including an encouraging answer to my question about the Value of Personal Stories to Healthcare Reform!"]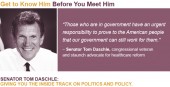 [/caption]
What a week! Had the privilege of speaking with behavioral healthcare providers and more at the 2012 National Council Conference in Chicago. I not only got the chance to share our family story - from chaos to recovery - in a session, but I also got to meet Healthy Places' Breaking Bipolar Blogger, Natasha Tracy in person, attend her session "To Blog or Not to Blog", and share some amazing tapas with her at an Iron Chef restaurant! Natasha is a wonderful writer, and amazing person. We had a great time.
The education track for my presentation was called "Personal Stories of Recovery." But it can't just stop with the story. We tell our stories of mental illness for a purpose...and, in this case, I asked the group to note, as they listened, which provider actions worked to help my son, Ben, and our family through crisis to recovery, and which did not (or even made things worse).
Here is the "Top Ten List" that was the take-away:
Top Ten Things Behavioral Health Providers Can Do to Help Families Affected by Mental Illness
#10 – Waiver: Ask the client to sign a Waiver or release so you can talk to the family as part of the treatment plan
#9 – Empathy: Does your staff know how the trauma feels from the family point of view?
Lack of insight into illness, medication compliance issues are REAL.
Know the stages of acceptance – who in the family is where?
Discuss memoirs, movies, news stories, TV shows with staff – how is the
family portrayed?
#8 – Respect (No-Judgment Zone ):

No Blame - these are no-fault illnesses. Remind family it is not their fault – but

[caption id="attachment_796" align="alignright" width="134" caption="Living with Schizophrenia - part of Conference Film Festival - inspiring!"][/caption]

they can be part of treatment and recovery, with permission.

Identify strengths of each family member, including client
#7 – Make Resources Available.
An educated family is an empowered family, and may make the difference between giving up on their loved one or staying engaged in recovery. Ideas:
Lending Library
Brochures –Illness info, services
List of books that help
Websites with accurate information - like HealthyPlace.com
Support groups – online or local
Crisis File – who to call, what to do - local services and agencies
#6 – Consider Having a Mental Health Educator on Staff : Ob-Gyns have childbirth educators. Mental health providers could have an educator on staff to spend time with families, caregivers, and patients, when the psychiatrists and therapists cannot.
#5 –Utilize NAMI and other Trainings:
Family-to Family
NAMI Basics
Provider Ed
CIT Training
Mental Health First Aid
#4 – Encourage Self- Care for Families

Ask "How are you?"
Take care of self and family sometimes the only choice
Model the Communication Skills that can help

"I" language
Reflective responses
Empathic responses - not enough to listen. Please believe.
#3 – Let the family help – and tell them how
Family/Caregivers as "eyes and ears": Medications and side effects – report symptoms observed
Family should keep and share accurate records – names, dates, conferences, contacts, hospital records, jobs, evaluations
#2 – Understand HIPPA: There is much info that can be shared! Among these:
Illness, prognosis, early detection signs
Medications and side effects
Support Services in Area – housing?
Suicide signs
Relapse and what to do
Providers are always allowed to receive info from families.
#1 – Realistic Hope: One of the most powerful things a provider said to me was, "I like my job because I love to see people get better." There was no guarantee, of course, but her words gave me some hope where I could see very little. If families know the difference between hope and expectation, it helps keep that hope realistic.
Allow for the time for stages of recovery to process; Patience
Share Prognosis and Possibility
Encourage small, realistic steps
Finally, thank you for all that you do! At the conference, I was constantly bowled over by the caring, commitment, and enthusiasm of each and every person I met. You rock!
APA Reference
Kaye, R. (2012, April 20). Engaging the Family in Recovery: Top Ten Action Steps for Providers, HealthyPlace. Retrieved on 2023, September 25 from https://www.healthyplace.com/blogs/mentalillnessinthefamily/2012/04/engaging-the-family-in-recovery-top-ten-action-steps-for-providers
Author: Randye Kaye