How To Support an Adult Loved One with Mental Illness
Caring for an adult with mental illness is like walking a fine line. On the one hand, the person is an adult and probably doesn't want to be coddled or told what to do. On the other hand, an adult with a serious mental illness such as schizophrenia, bipolar disorder, severe anxiety or major depression may need help and support to remain stable or stay out of major trouble.
Navigating the Caregiver Role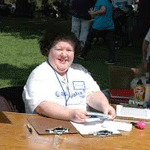 Cindy Nelson works part-time for NAMI Massachusetts and volunteers as a NAMI Family to Family Education Program teacher. Her sister is diagnosed with schizophrenia and has been managing this chronic illness for about 27 years. Cindy was the primary caregiver until her sister got married 22 years ago but is still involved in a caregiver role, as any family member is when they have a loved one with a serious and persistent mental illness. She says it's a delicate balance of being a caregiver of an adult family member and being a sister.
We discuss that and what it means to "support" a family member with a mental illness, plus dealing with caregiver burnout on this edition of the HealthyPlace Mental Health Radio Show.
Listen to the HealthyPlace Mental Health Radio Show. For mental health information, visit HealthyPlace.com
Unfortunately, the role as caregiver of a mentally ill adult is one for which family members are often untrained and unprepared. Mental illness caregivers have to deal with the difficult behaviors of the mentally ill adult. Activities of daily living often become difficult to manage. Each day brings new challenges as the patient's mental illness progresses. Another complication may be that the person lives on their own creating worry about what is going on while the caregiver is not around.
If you find yourself being a caregiver to an adult with mental illness, it is important to have care plan and a good support system in place.
Share Your Experience Caring for an Adult with Mental Illness
Do you have an adult family member with mental illness? What are the challenges that you have faced and how did you respond to them? Share Your Mental Health Experience with us by calling at 1-888-883-8045 or leaving a comment below.
APA Reference
Amanda_HP (2011, August 4). How To Support an Adult Loved One with Mental Illness, HealthyPlace. Retrieved on 2023, December 5 from https://www.healthyplace.com/blogs/radioshowblog/2011/08/how-to-support-an-adult-loved-one-with-mental-illness
Author: Amanda_HP
My younger brother is mentally ill since last 4 years,and he doesn't go to hospital ,he is homeless and people abuse him,I need your help please,he lives in bradford UK .
Leave a reply