To Combat Stigma, Take Off Your Mask
Stigma: a fallacy based on preconceived notions. I am going to go out on a limb here: Everyone at some point in his or her life has experienced stigma. Maybe because we have a lisp, a limp, maybe due to a physical impairment or maybe due to socioeconomic status. Stigma is nearly always directed at something we are unable to fully control.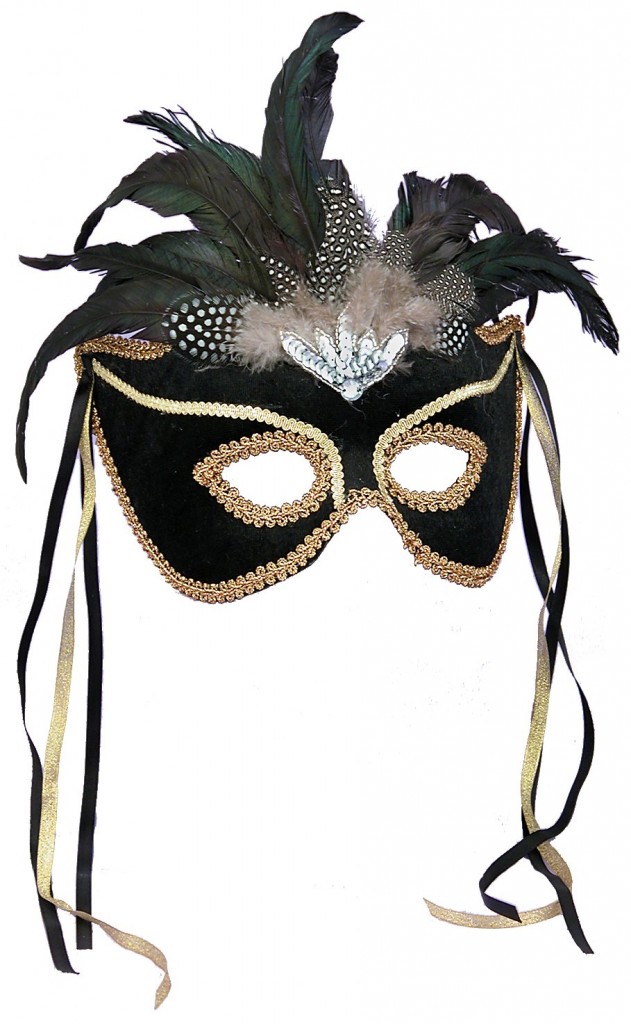 Stigma breaking takes not hiding behind the mask of "normal".
Mental health awareness is comprised of many things, including educating ourselves and the public about the realities of living with a mental illness. But it requires more than that. It requires stripping of the mask we wear in an effort to fit in. Wearing that figurative mask implies that we are separate and not equal.
Breaking the stigma begins with us, not with "them".
We live in the Information Age. The DSM has been updated and the discussions surrounding its release, its flaws and its revised descriptions of symptoms and diagnosis of mental illnesses shines the spotlight on the illness, but not on the BraveHearts living with a mental illness. In spite of the parade of drugs of every shape and color with promises of stabilization and hope, fear and bias against those with mental illness remains. Nearly every time some heinous crime occurs, the public - with their torches and pitchforks - pops off with "psychos! They walk amongst us, whatever happened to locking them up?" And if the media learns and reports that the suspect actually is or was mentally ill, then all bets are off. The torches burn even more brightly and the cries are louder.
Time to rip off the mask and show society what 1 in 4 persons with a mental illness looks like.
It is time to show those who most need to see it that we are educated, that we live, work and play amongst them and that we aren't looking for ways, via our illness, to harm them. Taking the mask off requires vulnerability but the most powerful witness to the ability of the mentally ill to thrive and to live joyfully in spite of a diagnosis is to tell our truths, to self-identify and to own it. (Watch these mental health stigma videos)
I am not a trained mental health professional. I don't have a Ph.D or M.D. behind my name. Yet I AM an expert in what living with PTSD, panic and bipolar disorder is like. I AM an expert in being a survivor of child abuse, domestic violence, breast cancer at age 29 and a rape 8 years ago. I AM an expert on the realities of building my life into passionate self-care, management of triggers, what panic and the darkness of depression feel like and my life is a testament to resilience. So is YOURS.
Last year, I blew the doors off being masked and mentally ill with The Face to Face: Uncommon Commonalities Project. I began with a simple goal: To illustrate photographically that there is no one look or characteristic that defines mental illness, even across diagnoses. I approached a local mental health program about the concept and once the proper permissions were in place, went about capturing over 400 images of beautiful souls. The final set of images was shown to various groups of students with the challenge to identify the common element across the subjects. The final image in the series is a self-portrait of me. I gave the audience a chance to guess once more and then revealed that each subject has a mental illness.
Mental illness is an equal opportunity thief. It cuts across socioeconomic, educational levels and so much more. One in four persons will develop a mental illness in his or her lifetime.
I am not suggesting that your unmasking be as public as that but allowing others to see you as competent, as a human being with skills, talents and courage will go a long way to combat stigma. One baby step at a time. . .we can change the cycle. It is time to meet Face to Face.
(Join the Stand Up for Mental Health Campaign. Put a button on your blog or website. Put a cover on your Facebook, Twitter, or Google+ profile. Isn't it time you stood up for yourself, for mental health?)
APA Reference
Kipp, P. (2013, October 25). To Combat Stigma, Take Off Your Mask, HealthyPlace. Retrieved on 2023, November 28 from https://www.healthyplace.com/blogs/recoveringfrommentalillness/2013/10/to-combat-stigma-take-off-your-mask
Author: Paulissa Kipp
In 2007 I wrote a book called bipolar disorder beyond the silence -it discusses wearing the mask -is that where your ideas came from?
i have also send this to my friends, and was inspiring a lot. Thanks you very much.
Thanks a lot for sharing with us, it was educative
Thanks for the article reading it changed my life alot.
Thanks for the article.Friends and families who encounter trauma nearly daily need to be supported.
Thanks for sharing this article, its quite educative.
I think that one reason it is hard to beat stigma is that, when you are doing well, people will say that you didn't have a very severe case...true
Thanks for sharing this it the high time that people accept themselves have a mentally ill friend who works manages his medication and leads a normal life. he never cares about what people say will have to suggest this article to him
Thank you Chris, another def: Stigma as a social phenomenon is exercised by groups of humans, one towards another, to fulfill psychological needs and to gain advantages, mostly economic. Stigmatizing groups derive psychological relief and even self-esteem from the mere knowledge that there exist individuals who are less able and less fortunate than they are (1). Also fierce economic competition, particularly on the background of scarce resources, has been associated with stigmatization. For example, by the end of the 19th century, the number of lynchings of blacks in the US was in inverse correlation with the price of cotton (2). Stigmatization of the eccentric and odd is justified by the stigmatizing groups as a tactic to avoid danger and protect the community .Stigmatizing attitudes against mental patients are more prevalent among less educated and more competitive groups. However, mental health professionals, health insurers as well as patients themselves and the fiercely militant support groups are not immune from such attitudes.
Thats amusing! But thanks again with this post
I've been browsing online greater than 3 hours these days, but I by no means discovered any interesting article like yours.
It is pretty value sufficient for me. Personally, if all webmasters and bloggers made
just right content material as you did, the web might be much more helpful than ever before.
Hi guys
I would like to thank you all for commenting and sharing how mental illness effects you. I live in a small town in New Zealand and have been speaking to local school about how we can break stigma around mental illness. I am also sharing with them my road with depression. I still have my up and down but have learnt my triggers and how to deal with the down days. I am currently training to do the Buller Half marathon to raise money for the New Zealand Mental Health Foundation. We also have great famous people in our country that have shared there stories and go around helping others to break the stigma around mental illness. After finishing my Diploma in Business I am hoping to do my Diploma in Mental Health. Anyway thank you for taking your mask off and always remember we are all amazing in our own ways and its ok to be a lil nuts as we say in my household.
Regards
Kathy Howard
Lovely article! I specialize in helping people with regain mental wellness and I agree with you that the stigma needs to stop. Thank you for taking off your mask :-)
I wanted to thank all of you for your comments and your thoughts regarding this very serious topic. I come from a background in Public Safety and was diagnosed with PTSD and depression many years ago. Although I to have my up and down times, it is an illness that I continue to struggle with to this day. I want to make sure that we remember our military and those working in public safety because they respond to an witness traumatic experiences almost every day of their careers. After time, if untreated, it tends to build up and it overflows. I wish I had the magic answer as far as removing the stigma that goes along with mental illness because I have been on the receiving end of it too. Sometimes it's our friends, our coworkers, or even our family members who don't understand or who don't take the time to educate themselves. Again I applaud all that you are doing and encourage you to keep doing more so that those who are suffering in silence can finally come forward comfortably and get the help they need!
Great article Paulissa, and great comments @Emily. I personally have been fighting similar battles in my mental health, and it is sometimes hard for even those who love you to understand, although I do agree that sharing your battle with those most important to you is a huge 1st step. It is almost 2014, one would think the stigmas behind "mental health issues" would be long gone! I think we are getting there, slowly but surely, and that is why I've devoted my career to helping those in need, which is what my company is doing in Chicago, at Urban Brain and Body.
I loved this, "I began with a simple goal: To illustrate photographically that there is no one look or characteristic that defines mental illness, even across diagnoses." I will check out the "Face to Face" project, it sounds very interesting and promising.
Lastly, Paulissa, if you are ever in the Chicagoland area, come on by and we will give you a tour of what we are doing and how we are helping people naturally and safely, through an array of services (BrainPaint, neurofeedback, counselors, etc.). I myself have started writing about my journey with mental health issues at http://bit.ly/18KWmz5 and I'm just getting started! Things are going to change!
Emily, very cogent points. There are certainly instances in which others don't need to know. When the knowledge will assist with understanding, that may be the appropriate time to share. I began sharing with my boss and friends when being symptomatic was making my relationships difficult. Some understood, some didn't - didn't matter. Those who didn't understand, I provided information to. They didn't perpetuate stigma further (at least not to me directly) simply because they didn't understand.
I think that one reason it is hard to beat stigma is that, when you are doing well, people will say that you didn't have a very severe case- the people who know I have an issue with depression at work have no idea I was once on disability, and when would be the time to tell them? It isn't relevant. I really would have to go around telling people how crazy I have been, how much I still struggle now. I'm not sure what context to do this in.
Leave a reply