Self-Harm Recovery and the 12 Steps
Self-injury can be addictive but you can recover from self-harm using the 12 steps, among other ways. Because self-harm helps us feel better, even if it is a negative coping skill, it can become a habit. We can become powerless over self-injury. But, like any addiction, a 12-step program can be useful in fighting self-harm behavior and aid self-harm recovery.
Recovery from Self-Harm Using the 12 Steps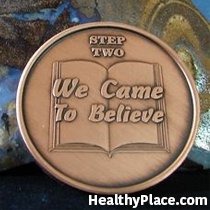 In this video, I talk about self-injury and the 12 steps of Alcoholics Anonymous, with a few tweaks to fit self-injury. Like any addiction, self-injury renders are powerless until we admit we have a problem and this makes our lives unmanageable until we get help. That's the first step. The second step is believing a Higher Power can set us free. That Higher Power, who some call God, loves us as a creator loves its creation, and can and will help us in our battle.
How to Use the 12 Steps for Self-Harm Recovery
For more on using the 12 steps to recovery from self-injury, watch:
You can also find Becky Oberg on Google+, Facebook and Twitter and Linkedin.
APA Reference
Oberg, B. (2016, June 29). Self-Harm Recovery and the 12 Steps, HealthyPlace. Retrieved on 2023, October 1 from https://www.healthyplace.com/blogs/recoveringfrommentalillness/2016/06/self-injury-and-the-twelve-steps
Author: Becky Oberg