Introduction to Court Rundell, Author of 'Recovering from Mental Illness'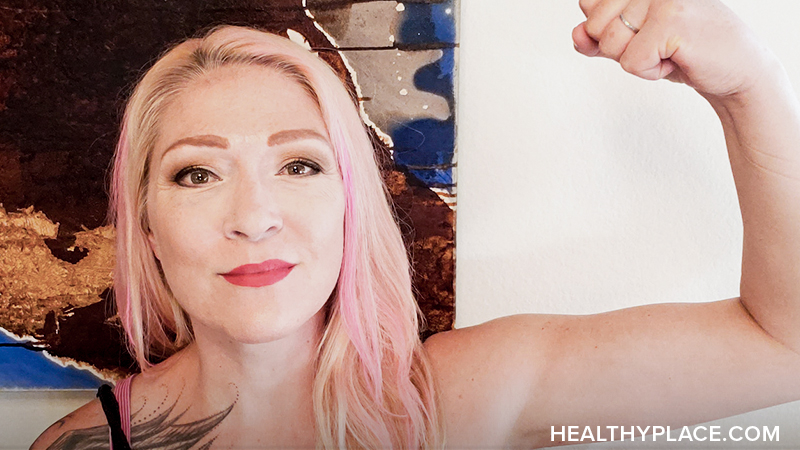 I'm Court Rundell and I'm thrilled to co-author the Recovering from Mental Illness blog at HealthyPlace. From a very early age, I was painfully aware that my internal life was atypical, and I needed to keep it a secret. I had panic attacks and disassociated from my body regularly by seven; I attempted suicide at 11 and started abusing drugs and alcohol by 12.
I kept my thoughts to myself and never let my mental illness interfere with my dreams – I was an actor, singer, dancer and an exemplary student. I graduated with a Bachelor of Fine Arts, got sober, married the man of my dreams and went to graduate school. Shortly after earning a Master of Arts, my internal life finally became external. I was placed on my first 72-hour hold and was diagnosed with bipolar disorder and posttraumatic stress disorder (PTSD). I saw my diagnoses as another degree to complete. After all, I believed every problem could be solved with hard work and determination.
Court Rundell Starts Recovering from Mental Illness
After three years of intensive therapy, hypnosis and medication, I found peace for the first time in my life. I worked through the psychological, physical and sexual abuse I'd endured as a child and teen and began to eliminate triggers in my life. I worked with a psychiatrist who changed my initial diagnosis to bipolar disorder type 1, rapid-cycling and complex PTSD, (C-PTSD). I finally achieved stability and felt confident that sanity was now only a matter of maintenance.
Court Rundell Continues to Recover from Mental Illness
I decided to have a baby – after all, I was sane. Once pregnant, I was more mentally ill than I'd ever been in my life. It was four excruciating years before I drew another sane breath. I tried 17 more medications, multiple therapeutic modalities, various alternative treatments, was hospitalized two more times and completed two transcranial magnetic stimulation (TMS) series. I finally achieved stability and then three years later contracted Lyme disease, which, again, highly compromised my mental stability.
Watch this video for more about Court Rundell:
Recovering from Mental Illness Is Possible
Today, I live in Los Angeles, California with my husband, son and pug puppy. My life is ridiculously awesome and very, very real. Recovering from mental illness has forced me to tap an inner strength I never knew existed. For so long, I tried to hide my mental illness, but now I know as long as I hide in the dark, the darkness wins.
There is no shame in having a disease. We did nothing wrong to end up here. We are dynamic, strong, brave people who deserve to have a voice. My goal with this blog is to help you find your strength and your voice as I continue to find mine – without shame, without judgment and with love.
APA Reference
Rundell, C. (2020, September 2). Introduction to Court Rundell, Author of 'Recovering from Mental Illness', HealthyPlace. Retrieved on 2023, December 7 from https://www.healthyplace.com/blogs/recoveringfrommentalillness/2020/9/introduction-to-court-rundell-author-of-recovering-from-mental-illness
Author: Court Rundell