Do Self-Harm Scars Ever Go Away?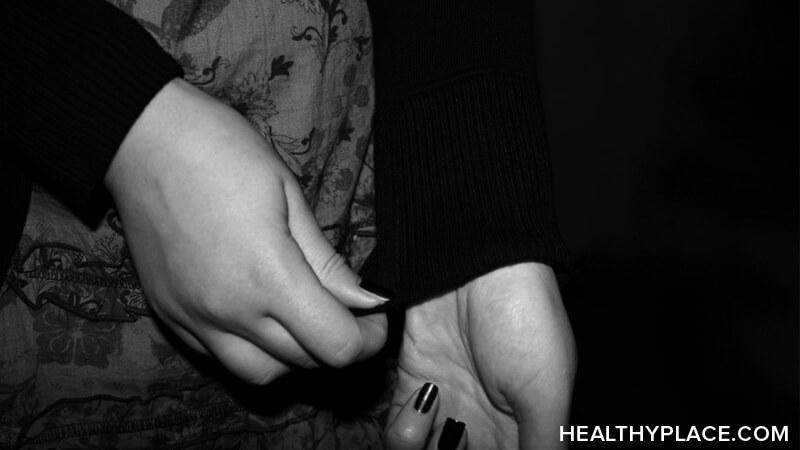 Do self-harm scars ever go away? Let's discuss the answers to that question.
Some scars are a source of pride. We show them off; we point to them and say, "Look at what I survived." Some of us remember that iconic scene in Jaws when the boys sing old sea shanties and cheerfully compare their battle scars. But self-inflicted wounds aren't always so easy to share, and there are some scars we would rather not bear. Do these self-harm scars ever truly go away?
How Long Do Self-Harm Scars Take to Go Away?
How long it will take for self-harm scars to go away is different for everyone. Every body heals differently. Whether self-injury will result in scarring depends on the type and severity of the injury. Minor injuries often fade entirely after a handful of days; major ones are more likely to leave a lasting mark. Other factors—such as medical conditions or medications—may also impact the healing process. Some scars can take up to two years to fade completely.
Applying first aid to a fresh wound can promote healing and minimize scarring. But let's say it's been two years, four, perhaps even a decade or more—and the scars are still there. Will those self-harm scars ever go away?
The answer, unfortunately, is "probably not." Scars that don't fade within two years tend to be permanent.1 However, it's important to remember that:
You are not your scars. They are part of you, but they do not define you.
Scars are a sign of healing; they are your body's way of keeping old wounds closed.
You can cover your scars in a safe and healthy way, should you need to. 
However, you have nothing to be ashamed of.
It's up to you to decide who gets to see your scars. It's also up to you to decide how you see your own scars—and to do the hard work of healing the invisible ones that lie beneath them.
Living with Self-Harm Scars That Don't Go Away
The scars on my arm are hairline-thin, white and almost invisible against my pale skin—completely unnoticeable to the casual observer. But I see them every time I reach out to turn off my bedside lamp, and they still itch sometimes when life starts to feel overwhelming.
You don't have to love your scars—I certainly don't love mine—but you can learn to live with them, and to cope with the triggers and the urges you associate with them. It isn't easy, though; it takes constant practice and a lot of patience.
I don't wake up every day admiring the body I see in the mirror. But I don't fixate on my scars anymore, either. I see them, but they no longer blind me to the rest of who I am as a person, or who I might yet become.
Scars, after all, are a product of the past. You can't undo the past—but you can put it behind you, one day at a time.
Sources:
1. Scars, National Health Service. Accessed March 2, 2020.
APA Reference
Kim Berkley (2020, March 19). Do Self-Harm Scars Ever Go Away?, HealthyPlace. Retrieved on 2023, December 8 from https://www.healthyplace.com/blogs/speakingoutaboutselfinjury/2020/3/do-self-harm-scars-ever-go-away
Author: Kim Berkley
I just reached one month and I want to relapse bc the reason I relapsed before was bc my grandmother died and now I'm having to deal with the pressure of choosing my options for my gcse and I feel ashamed that I'm doing this at the age of 14 starting it at 12 I want to stop and I want to be happy but I can't find a way to keep clean and so at times I find myself doing it with a sharpie pen instead bc I want the scars to fade but once they fade they're gone and a part of me doesn't want then to go and I don't know why it's just that they are always there and a sharpie pen you can see the marks but they just don't hurt any tips on how to help keep myself clean
I have just reached 7 and a half months clean of self harm and been having the urge to relapse due to being overwhemled with uni work and scars starting to fade as the slightly raised nature of them had become a comfort to feel. Do you have any tips with dealing with scars and the urge to relapse?
Hello,
do you have any tips for when fading scars are a trigger?
I look at my scars as old friends that helped me through a hard time and watching them fade is like watching a friend walk way.
i look at my scars and wanna re-lapse. ive been self harm free for 2 years now. anyone have any tips on how to help with that?
wow, thank you, the nice note saying 'you are not your scars' made me cry. that was nice to hear <:,)
A friend of mine is having problems with her scars, they're putting her in a dark place, and I don't know what to say to help her feel better about it.
Leave a reply