Recovery from Eating Disorders: A New Year of Hope
On New Year's Eve 2009, I was with my husband, David, at a party. I ate without too much fear and had earlier wrote that I was on my way to complete recovery from anorexia nervosa in 2010.
It wasn't meant to be. However, I always try to live my life with hope. I vow that 2011 will be the year I recover. I also believe each one of you can make this the year you recover from your eating disorder.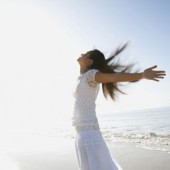 Everything came crashing down almost as soon as the calendar's page turned to January 2010. I relapsed and became quite ill. I had to be hospitalized in February, and the rest of the year was filled with constant struggling to recover from anorexia. Every month something happened that made recovery feel more and more distant from me. I felt as if I were chasing an elusive, wispy goal that was just out of reach.
Have you felt that way? Perhaps this has been a dark year for you and your eating disorder, too. Perhaps you have suffered from restrictive eating and had to be hospitalized. You might have been caught in a vicious cycle of binging and purging. Maybe your illness felt like it was too much for you at times.
You can recover from your eating disorder. It might not feel like that to some of you. There have been many times it has felt like I will never recover from anorexia. But there is something within me that makes me try one more time.
You see, I wanted to become the best anorexic ever more than I wanted to save my life and marriage. I valued my eating disorder above everything — my husband, graduate school, family and friends, and my own life. I plunged into pro-anorexia websites and viewed online thinspiration.
But it really wasn't about being thin. It was about quieting the anxiety and fears that are rooted deep within me. I believe these are the core issues for many people with eating disorders. The symptoms include problems with food, self-injury, and other problems.
You might be asking right now, "Where is this new year of hope?" The great thing about the past is that it is the past. It is gone and does not have to be repeated again.
And the wondrous thing about the present and future is that each one of us can control it. Yes, it takes hard work to start and stay in recovery. I have done it many times and failed. But with each failure I have learned something.
Perhaps the most important thing I have learned this year is that recovery must come from within. Each time I have tried to recover for my husband, my therapist, my friends, or anybody else, I have ultimately failed.
Eating disorders kill. I must want to live instead of allowing anorexia to slowly destroy me. I must want recovery for myself. Let each one of us truly believe we deserve to recover and truly live this New Year. Let 2011 be the year we win against our eating disorders.
APA Reference
Gambrel, A. (2010, December 31). Recovery from Eating Disorders: A New Year of Hope, HealthyPlace. Retrieved on 2023, December 8 from https://www.healthyplace.com/blogs/survivinged/2010/12/recovery-from-eating-disorders-a-new-year-of-hope
Author: Angela E. Gambrel
[...] this trying year. I stressed that recovery from an eating disorder is possible at any age and that hope is possible in any circumstance. But I also had to write about anxiety and how both food and recovery still frighten me, even as I [...]
In a word, the process of recovering from mental illness as well as from anorexia implies an complex psycho-social undertakings. Firstly it should to construct an healthy life style to dealing with daily constraints that are unexpected and unavoidable as well.Meanwhile, I am conciliated with You that the most important issue in this direction is the inherent deeds to love oneself in incontestable manner. In other words this mean to accept oneself as whole person: with all best and worst features, that traverses any personality without exception. If we outfit this emotional feeling to ourselves, we are on the good side to recover in satisfying level, against life challenge.
Great Blog! Thanks for the info.
You're welcome! Lisa, I will pray for your recovery - you deserve to be free of Ed! We all do and I hope 2011 will be the end of Ed for both of us!
Take care and message me if you want to talk, etc. Know you can get better!
I entered inpatient treatment for the first time on Jan. 7th, 2009. Facing this new year, and realizing that treatment was almost a full two years ago, is proving to be a dark and difficult time. I feel as though I could turn around and find myself in ED's prison again at any moment. But my resolution this year is to start being good to my body and to myself, and hopefully by taking that approach I can finally discover what recovery really means. Thank you for sharing your story and your message of hope!
Thank you so much for your kind words! You too can recovery - let's make 2011 the year we both get rid of Ed. Wishing you all the best,
Angela
THE HOPE LIES in the FACT that u now see your own worth and right to recover..against hard odds, a difficult year your strength and courage really inspired and moved me..THANK U...and know ur never alonee in this struggle, im right there with u and we CAN AND WILL RECOVER....best of luck, a saying i love a chinese proverb...all down 8times get up 9, PROUD OF UR STRENGTH :)
Leave a reply