Yoga for Better LGBT Mental Health
Just in case you haven't heard the news by now, with very few exceptions, yoga is good for you! And if you happen to be an LGBT individual committed to better mental health, then you may find that a simple yoga practice is just what you need.
Anxiety, depression and high stress levels are serious problems for many of us in the LGBT community. A study of 4,000 people by the Australian Research Centre in Sex, Health and Society (ARCSHS) concluded that "almost 80% of LGBT folks have suffered intense anxiety within the last year"!
It seems to me that we are carrying a disproportionate share of mental health issues across the globe, and yoga is a no to low cost way for our community to practice mental self-care.
Why Yoga?
Yoga is a practice that is all about understanding the connection between our mind and body. Deep breathing and other breath work in combination with yoga postures (called asanas) serve to quiet the "mental chatter" that is often the main source of our stress and anxiety. How many times have we wished that we could just shut our mind off?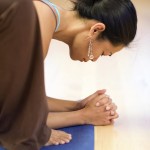 In addition to quieting my mind, I've found another benefit of yoga to be that of balance. Not just a physical balance, but a mental and emotional balance that impacts nearly every area of my life, including my relationships. Author and neuroscientist Gabriel Axel tells us that " Yoga starts as the process of harnessing the brain's capacities and naturally evolves into the art of living well."
Here are 5 immediate ways that LGBT individuals can use yoga to promote mental health and wellness:
Relieve Anxiety and Depression
Practice Self-Acceptance
Improve Your Relationships
Have Better Sex
Meet New People with a Healthy Common Interest
For more information on the full benefits of yoga, I recommend a visit to the Yoga Health Foundation website. In celebration of National Yoga Month, you will find that many yoga studios across the US are offering free introductory yoga classes for students new to the practice.
Namaste. The light in me sees the light in you.
APA Reference
tneely (2013, September 23). Yoga for Better LGBT Mental Health, HealthyPlace. Retrieved on 2023, December 2 from https://www.healthyplace.com/blogs/thelifelgbt/2013/09/yoga-for-better-lgbt-mental-health
Author: tneely